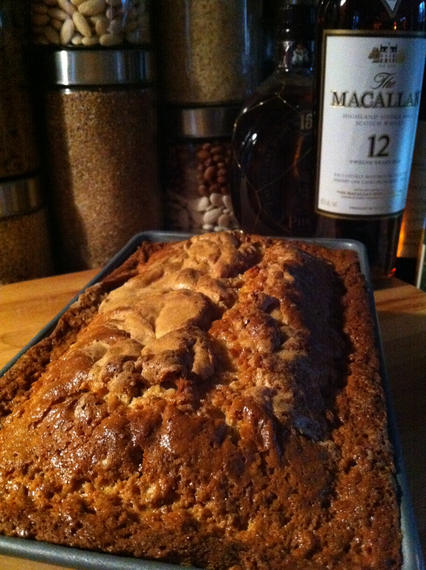 I'm not Irish.  So, I didn't feel one ounce of guilt about turning this into a sweet bread.  I am, however, Italian.  So, ok maybe… just maybe.  There was one little itty bitty baby ounce of guilt.  It's not at all traditional.  But, this sweetened soda bread was a big hit for breakfast.
Rich & Sweet Soda Bread
3/4 cup raisins or currants
1/4 cup Irish whiskey
1/4 cup boiling water
3 cups AP flour
1 teaspoon baking soda
1 teaspoon baking powder
1 1/2 cups half & half, room temperature
1 cup sugar
4 Tablespoons butter, melted
2 large eggs
1 teaspoon vanilla
superfine sugar, for the top, if desired
Preheat oven to 350 degrees F.
Soak raisins in whiskey and water.  Set aside.  Sift flour, baking powder, and baking soda.  Set aside.  Butter one large loaf pan.  And, set it aside.
In a small saucepan, melt butter.  Combine melted butter, half & half, sugar, vanilla, and eggs in a large mixing bowl.  Whip briefly.  Add raisins.  Gently stir in flour mixture until just barely combined.  Pour into buttered loaf pan.  Sprinkle top with superfine sugar.  Place in the center of your preheated oven.  Bake for 50-60 minutes at 350 degrees F.
Serve with tea and jam… maybe a little butter, too.