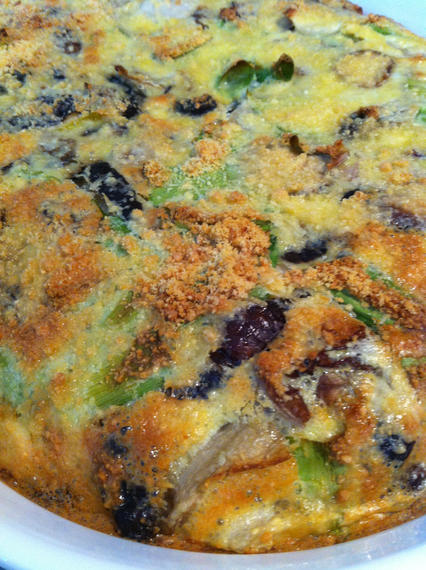 Leftover veggies always find their way into my frittatas.  Roasted radicchio, shiitakes, and endive from last night's dinner added the perfect touch to today's super simple lunch.
Radicchio, Shiitake, and Endive Frittata
makes one casserole dish
8 eggs
3 scallions, roughly cut
1/2 head leftover Roasted Radicchio, chopped
1 head leftover Roasted Endive, chopped
1 cup leftover Roasted shiitake mushrooms, sliced
2 Tablespoons Parmigiano-Reggiano
Salt & Pepper, to taste
2 Tablespoons Parmigiano-Reggiano, grated
2 Tablespoons bread crumbs
Preheat oven to 375 degrees F.
In a large mixing bowl, break 8 eggs.  Whip vigorously.  Then, add all remaining ingredients.  Stir to combine and pour into a large casserole dish.  In a food processor, combine Parmigiano-Reggiano and bread crumbs.  Pulse until finely grated.  Sprinkle over casserole.
Place casserole in preheated oven and bake at 375 degrees F for 45-55 minutes, or until fully cooked in the center.  Serve with sliced tomatoes or tomato salad.