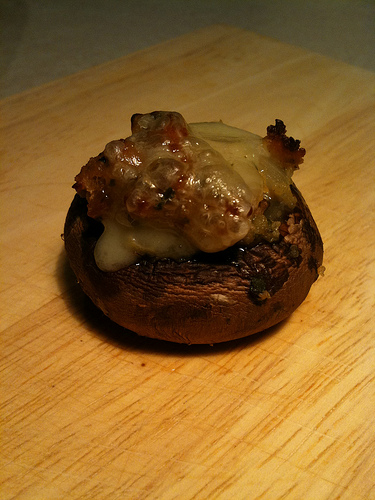 I remember my mother making stuffed mushrooms for every Thanksgiving… well, maybe it was just every Thanksgiving of my grade school years.  Lately, we've dropped the habit.  But, this is a great way to use leftover stuffing.  And, they're a great little blast from Thanksgiving days of my past.
Stuffed Baby Portobellos
15-20 baby portobello caps
portobello stems, finely diced
2-3 slices of challah bread, processed ultra-fine
1/2 sweet onion, finely diced (Vidalia or Walla Walla)
1 clove of garlic, super-fine dice
1/4 tsp powdered basil
1/4-1/2 tsp black pepper
salt, to taste
one egg
1-2 tablespoons sour cream
Emmentaler or a tiny hunk of brie or young provolone
Preheat oven to 425 degrees.
Saute onion in a small frying pan until light golden.  Lower heat and add garlic & diced mushroom stems, cooking long enough to remove the raw garlic taste.  Add remaining spices and let cool slightly.  When cool enough(to NOT cook the egg), add egg and sour cream.  Mix to combine and stuff mushroom caps.  Bake for 15 minutes.  Remove from the oven and top with cheese.  Bake for another 5-10 minutes.  (Or, until cheese is yummy-looking and bubbly.)  Devour immediately.