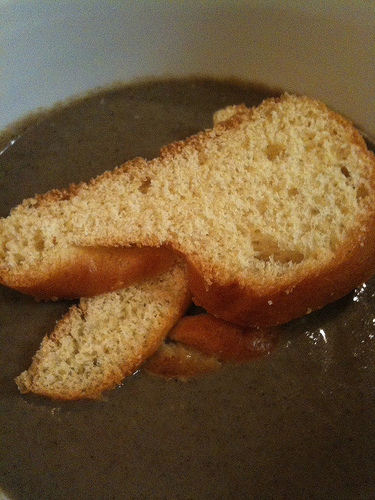 Cream of Portobello Mushroom Soup
makes 8-9 cups
6 portobello mushroom caps, sliced
1 large onion, sliced
5 cloves of garlic, sliced
3 cups chicken stock
3 cups whole milk
3 Tbsp flour
2-3 Tbsp butter
1/4 cup Cognac
1 tsp salt
1 tsp black pepper, finely ground
Saute onions until golden brown in a small stock pot.  Add garlic, mushrooms, salt & pepper; saute for an additional 2-3 minutes.  Deglaze the pan with 2 cups of chicken stock.  Briefly let the mixture cool and puree mixture in a food processor until smooth.  Set aside.
Melt butter in the stock pot.  Add flour and allow to bubble.   Slowly pour in the last cup of chicken stock, stirring vigorously to remove any lumps.  Add the puree of mushrooms & cognac; allow to simmer.  Add milk in 1 cup batches, allowing soup to simmer after each addition.  Add up to 3 cups of milk to reach the consistency you desire.
Serve with freshly-made croutons, buttered toast or thin slices of bread.
Other Uses:
– Make risotto
– Make lasagna by layering sauteed mushrooms, cheese & Cream of Portobello
– Toss with buttered pasta for a simple pasta sauce
– Use a portion as the base for a turkey & mushroom gravy
-Add to a mushroom-based stuffing
– Make pot roast or braised meat using the soup as a base
– Make the best old-fashioned green bean casserole of your life (with fresh green beans & wild mushrooms)
– Make  a potato gratin substituting Cream of Portobello Soup for heavy cream