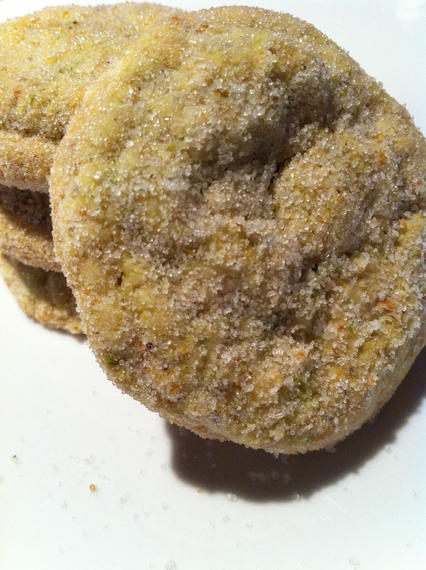 These light, buttery and crumbly cookies are loaded with pistachio flavor.  I'm a little surprised that the green color is so faint given the vividly bright green pistachios that I used.  But, I still prefer this natural color to that of food coloring.
Pistachio Crumble Cookies
makes 3 dozen
1 cup butter, soft
1 cup confectioner's sugar, sifted
1/2 teaspoon vanilla extract
1/2 cup corn starch
1 1/4 cups AP flour
1 cup finely ground pistachios
Cream butter and sugar until smooth and fluffy.  Add vanilla extract and cornstarch.  Beat only long enough to combine.  Then, add flour and pistachios.  Once again, beat only long enough to combine.  Chill dough for at least 2 hour.
Preheat oven to 325 degrees F.
Roll into balls.  Place balls on parchment lined cookie sheets.  Space evenly. Then, flatten gently with a flat bottomed glass dipped in superfine sugar.  Bake for 15 min.  (Or, until very light golden at the edges.)