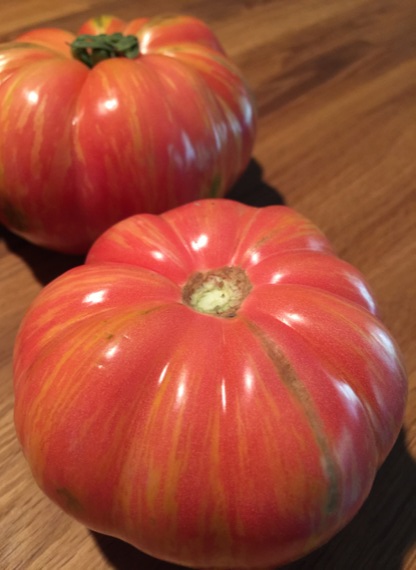 Pink Berkeley Tie Dye?
These were rich, juicy, and delicious.  So, after eating these tomatoes, I've spent a little bit of time attempting to identify them.  Is this a Pink Berkeley Tie Dye?
Or…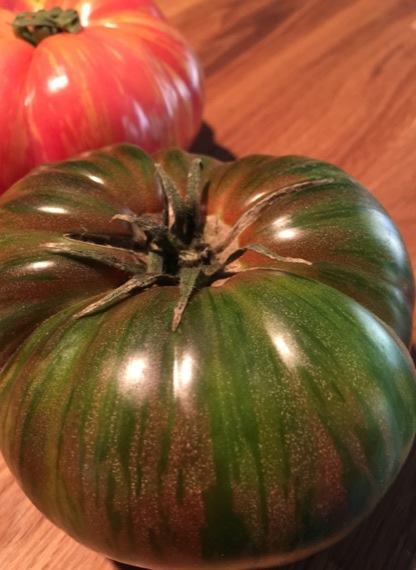 …Is this a Berkeley Tie Dye?  Or, is this a Large Barred Boar Beefsteak Tomato.  (Yes, that's really the name of a tomato.)  Or, are they both versions of Berkeley Tie Dye?  I'm just not sure.  Both are ribbed, pleated, convoluted, or lobed.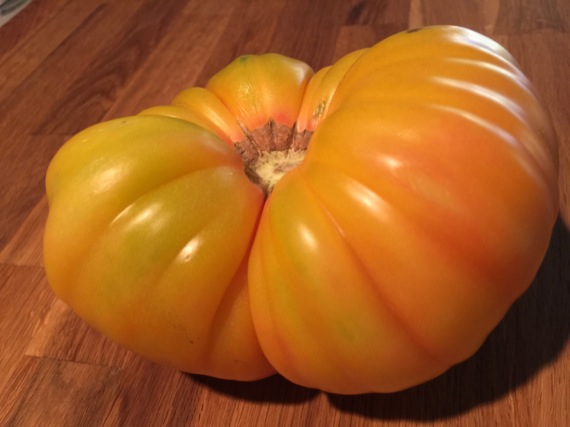 This beauty is lobed, too.  But, I'm pretty sure this is a Striped German.  After ripening for 3-4 days on one of our countertops in our temperature controlled home, this tomato turned a deep red on the bottom.  It was perfectly ripe, dark red, juicy, and bursting with savory tomato flavor.
We bought these tomatoes at Whole Foods for $7 a pound.  And, they were worth every penny.  Roughly, 75% ripe, they were quite firm at the time of purchase.  But, after 3-5 days each tomato slowly ripened at its own pace.  And, the flavor was very close to my home grown tomatoes.
Tomato Basil Salad
serves 1
1 small pink striped
Chinese Chives
Thai basil
sweet basil
black pepper
Slice or cube the tomato.  Sprinkle with chopped chives, basil and freshly ground black pepper.  Lightly drizzle vinaigrette on top.  Toss and garnish with additional chives, if you like.  Serve immediately with a wedge of toasted baguette.
My Current Favorite Vinaigrette
olive oil
tiny splash of roasted sesame oil
rice wine vinegar
about 1 heaping teaspoon chili garlic sauce
black pepper
fine sea salt, as you like it
Combine roughly equal parts of olive oil and vinegar.  Add a splash of sesame oil and a heaping teaspoon of chili garlic sauce.  Add a few grinds of black pepper.  Taste.  Add salt, as desired.