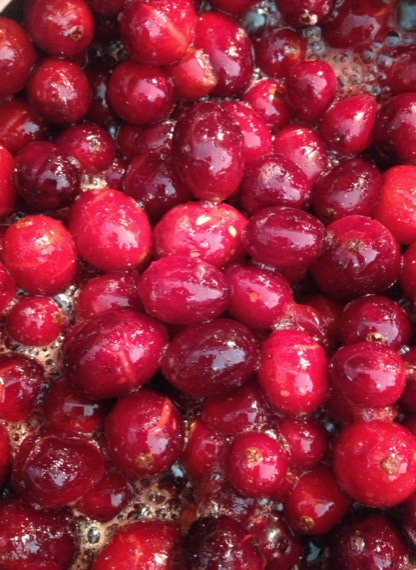 This year's spiced cranberries are just about gone.  And, we're not just putting it on the turkey and turkey sandwiches.  It's also delicious on a buttered baguette, yogurt and müesli.
Spiced Cranberries
makes almost 4 cups
2 bags cranberries (2 – 12 oz bags)
1 1/2 cups sugar
1/2 cup Grand Marnier
1 teaspoon vanilla extract
1/2 teaspoon cinnamon
Place all ingredients in a medium sized sauce pan.  Add approximately 1/2 cup water.  Simmer gently over low heat to allow berries to pop.  (3-5 minutes)  Set aside.  Then, prior to serving, bring back to a gentle simmer and add additional water (1/4 cup-1/2 cup), if a thinner sauce is desired.