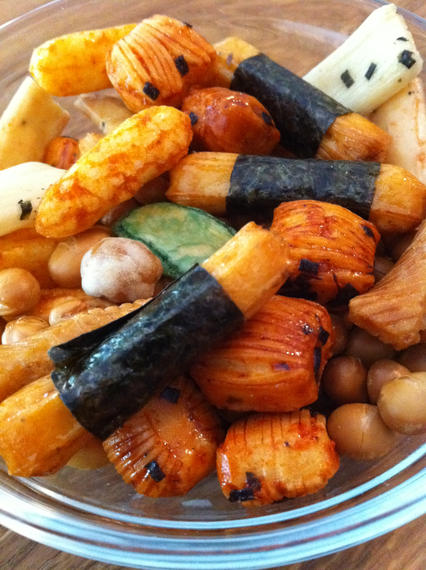 Our Favorite Cocktail Snacks
For just over $4, we were able to make a giant bowl of cocktail snacks.  Each rice cracker added its own charm.  A touch of sweetness here, a taste of savory there and a nice random bite of spicy pepper.  This super easy mix makes a great cocktail nibble.
This mix pairs beautifully with a vodka martini bar.
Rice Cracker Mix
makes 1 giant bowl
(or many little bowls to scatter around the bar)
roasted soy nuts
seaweed wrapped rice crackers
Thai chili ball crackers
wasabi peas
rice crackers
roasted peanuts
Combine all.  Stir.  Pour into bowls.
Time for cocktails & nibbles.
(We bought our assortment of nuts and crackers at Dekalb Farmers Market)
…
For The Adults At The Party:
Vodka Martini
makes 2
2 teaspoons Noilly Prat dry vermouth
4 ounces Vodka, chilled
2 skewers of green olives(3-4 olives per skewer)
Add 1 teaspoon (or less) of dry vermouth to each of two vodka glasses.  Add 2 ounces of vodka per glass.  Garnish each glass with a green olive skewer.
Cheers!
…
…Or, you could try this.
Dirty Martini
makes 2
6 ounces vodka, chilled
2 tsp to 1 ounce olive brine, chilled (from best green olives available)
a tiny splash Lillet Blonde
two skewers of green olives (3-4 olives per skewer)
In a cocktail shaker, add vodka, olive brine, and a splash of Lillet Blonde.  Stir gently.  Divide between two martini glasses.  Garnish each glass with one skewer of green olives.
Cheers!