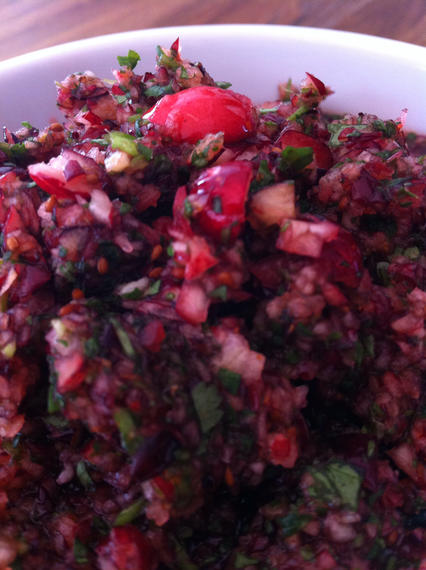 With John Kessler's cranberry salsa in mind, we deliberately bought two bags of cranberries this year.  The first bag was used to make our traditional cranberry sauce.  The second, we saved for the day after cranberry salsa.  Now, we could have made this on Thanksgiving Day.  But, we already had too many dishes planned for the day.  My intention was to make his recipe verbatim.  But, our internet connection decided to take that Black Friday off.  This is what I made from my memory.  Apparently, my memory was still on vacation, too.  My dish bears little resemblance to my intended.  But, guess what?  It was still out of this world good.
And, we've lucked into a new tradition.
The Day After Cranberry Salsa
makes one bowl
1 bag of fresh cranberries, well-washed and picked over
1 super-hot red jalapeño, seeds removed
1/2 cup super fine sugar
juice of one lime
1 teaspoon lime zest
1 bunch cilantro, well-washed and trimmed
1/4 teaspoon fine sea salt
1/4 teaspoon black pepper, freshly ground
In a food processor, add cranberries, jalapeño, 1/2 cup sugar, juice of one lime and lime zest.  Pulse about 3-4 times.  Add cilantro, salt and black pepper.  Pulse again, try to leave a few coarse chunks for texture.  Pour into a glass bowl and let it sit for at least 5 minutes before starting your sandwich making preparations.
For The Perfect Turkey Sandwich:
2 pieces of freshly toasted bread
homemade mayo
thin slices of turkey
cranberry salsa
Apply a very skimpy amount of homemade mayo to toast.  Pile on the turkey.  Top with two heaping teaspoons of cranberry salsa.  Slice and devour immediately!
P. S.  This is was the recipe I originally intended to make.
John Kessler's Cranberry Salsa
makes one bowl
zest of 1/2 an orange
1 inch fresh ginger, peeled and minced
1/2 cup granulated sugar, or to taste
1/4 cup water
1 bag of fresh cranberries
2 serrano peppers, seeded and minced
pinch of salt
1/4 cup cilantro leaves, chopped (not packed)
juice of one lime
1 Tablespoon rum or vodka
Combine the orange zest, ginger, sugar and water in a small, nonreactive saucepan.  Bring to a boil over med-high heat.
Meanwhile, chop the cranberries in a food processor.  Transfer to a nonreactive bowl.  Cook the sugar mixture until very thick and syrupy (about 5 minutes).  Pour syrup over the cranberries, using a rubber spatula to scrape out every bit.  Add minced peppers, salt, cilantro, lime juice, and rum.  Mix well.  Taste and add sugar, if needed.  Refrigerate at least one hour.
Note:  May be made up to a week ahead.