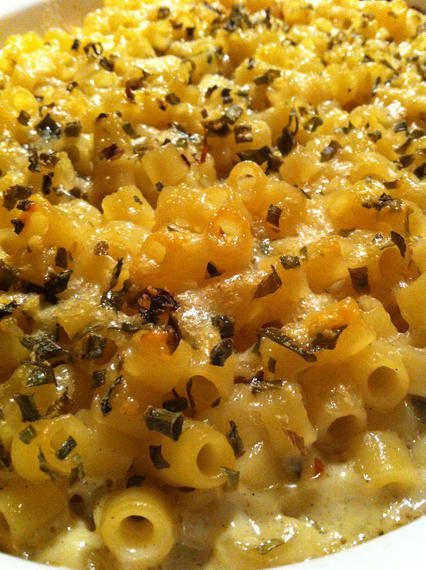 This mountain of cheesy pasta was inspired by an empty refrigerator.
…and a crumbly hunk of feta that was begging to be eaten.
Feta Pasta Bake
makes 1 casserole
1 lb ditali pasta, cooked al dente
2-3 Tablespoons butter
2 Tablespoons flour
1 1/2 cups milk, 2 %
1 cup Greek yogurt
1 teaspoon lemon zest
1 square feta, crumbled (approx. 8 oz.)
1 – 1 1/2 cups mozzarella
1 giant handful chives, finely chopped
1 sprig fresh Greek oregano, finely chopped
1/2 teaspoon black pepper, freshly ground
fine sea salt, to taste
Garnish:
1 handful shredded mozzarella
1 small handful chives, finely chopped
In a large dutch oven, melt butter.  Add flour.  Cook roux for approximately 1-2 minutes.  It should be toasty, golden and bubbly.  While stirring, add milk.  Stir until smooth and creamy.  Add lemon zest, yogurt, feta, pasta, chives, Greek oregano, and black pepper.  Stir to combine.  Add mozzarella and stir briefly.  Pour into large casserole dish.
Bake at 375 degrees F for 40-50.  Or, until the top is golden and bubbly.