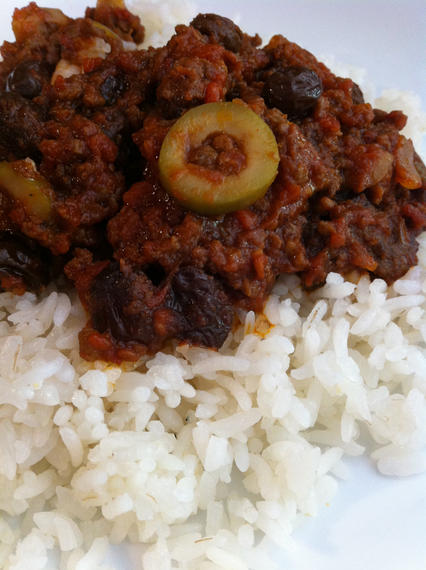 Growing up in Florida, we were lucky to experience a diverse range of Latin Caribbean cuisines.  If forced to pick a favorite, Cuban would be high (if not tops) on that list.  Classic Spanish mingles with the tropics.  This glorious combination creates something greater than the sum of its parts.
Picadillo draws on the Spanish influence.  And, a tasty pairing of fried yucca with mojo criollo pulls in that taste of the tropics with its burst of bitter orange and citrus.
Picadillo
serves 6
2 lb ground lean beef
1 large onion, chopped
1 small potato, finely diced
4 cloves garlic, finely chopped
1 cup high quality DOP crushed tomatoes
1/4 cup brandy de Jerez (Gran Duque De Alba)
splash Worcestershire Sauce
splash Tabasco
1 cup raisins
1 cup green olives with pimento
1/2 teaspoon black pepper, freshly ground
salt, to taste
In a large dutch oven, brown ground beef.  Add onion and potato.  Saute for an additional 2-3 minutes.  Add all of the remaining ingredients and simmer over low heat for 15-20 minutes.
Serve over a small bed of white rice.  And, fried yucca with mojo criollo adds a nice crunch on the side.