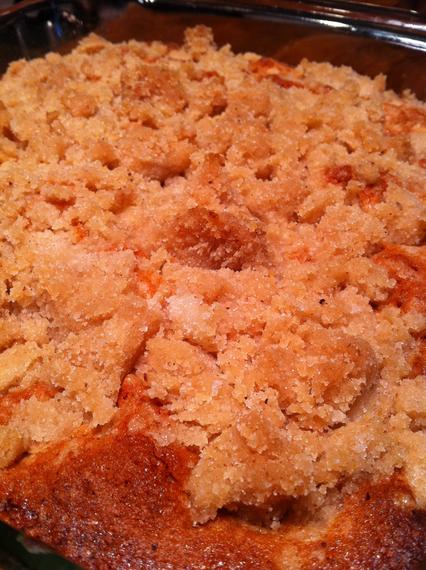 Apple Crumb Cake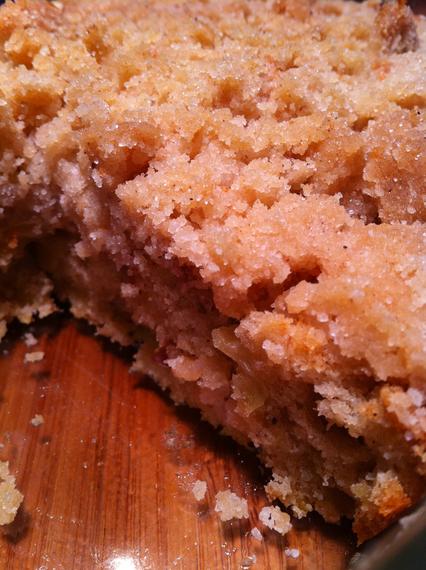 Moist Interior
Apple Crumb Cake
makes one 8 x 8 inch square cake
2 cups AP flour, unbleached
1/2 teaspoon baking soda
1/2 teaspoon baking powder
1/4 cup olive oil, light and fruity
1 cup sugar
2 eggs
1 teaspoon vanilla
2 small apples, finely chopped
1 cup applesauce
Crumb Topping:
1/2 cup flour
1/2 cup light brown sugar
1 stick butter
1/4 teaspoon cinnamon
Preheat oven to 350 degrees.
Sift dry ingredients in a small bowl.  Set aside.  Cream olive oil, sugar and eggs in a large bowl.  Add vanilla and chopped apples.  Stir briefly.  Then, gently stir in half of the flour mixture into the wet mixture.  Add apple sauce and the remainder of the dry ingredients.  Stir briefly to combine.  Pour into buttered baking dish.
Using a fork, mix flour, sugar and butter to create a chunky crumb mixture.  Sprinkle this mixture evenly over the top of cake batter.  Bake for 35-40 minutes.  Or, until a toothpick comes out of the center cleanly.
Serve warm with a small scoop of ice cream and/or whipped cream.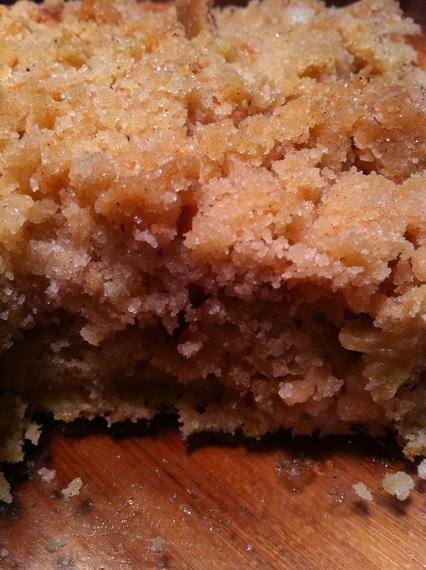 Tender Crumb