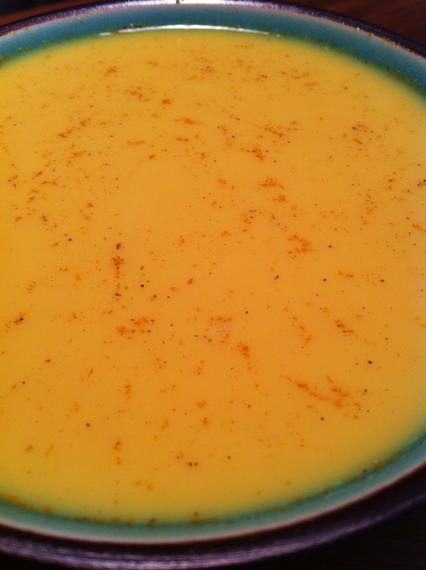 Martha Stewart's niece Sophie Herbert demonstrated the preparation of this milk on Friday's episode.  Very timely, considering both my husband and myself are getting over a cold and sore throat.  This tea was the perfect remedy.  It's lovely and tasty, too!
(I've altered the recipe ever-so-slightly.  The mace is my addition.  We're loving this!)
Turmeric Masala Milk
Makes 2 teacups
2 cups 2% milk (or whole milk)
1 teaspoon turmeric
1/16 teaspoon cinnamon
1/16 teaspoon mace
1/16 teaspoon nutmeg
1/16 teaspoon ginger
1/16 teaspoon cardamom  ( I left this out. )
pinch of saffron
1 heaping teaspoon chestnut honey
Pour boiling water into mugs/teacups as you prepare the milk.
Heat milk over a low heat as you add ground spices.  Heat for 1-2 minutes, or to your desired temperature.  Discard water from mugs and strain tea into heated mugs.
Savor it slowly.  It's very soothing to your throat.  And, the warm milk definitely aids in relaxation.