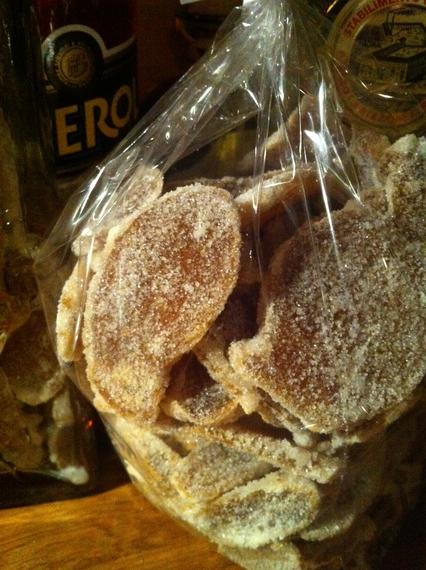 Two medium-sized hands of ginger make well over 2 cups of candied ginger.  Next time, I'll cut the ginger into smaller, more user-friendly pieces.  These large pieces were pretty.  But, the uneven sizes made for tricky packaging.
Candied (or Crystallized) Ginger
2 hands of fresh ginger (washed, cleaned and sliced thin)
2 cups sugar
Place ginger in medium sized saucepan filled with 4 cups of water.  Bring to a boil.  Lower heat to a simmer.  Simmer gently for 20-30 minutes, or until tender.  Drain off liquid.  Add 2 cups of fresh water and 2 cups sugar.  Bring to a simmer over low heat.  Turn off the heat and allow the ginger to cool for approximately one hour in the sugar syrup.  After roughly one hour, place over low heat and bring the ginger and syrup back to a simmer.  The ginger should be translucent and tender.  Turn off the heat and strain the ginger.
(Reserve sugar syrup for later use.)
Place ginger pieces on racks to cool and dry for at least two hours.  When ginger appears mostly dry.  Roll in super fine sugar.  Place sugar coated ginger pieces on clean racks and allow to dry thoroughly before packaging.  Packaged in pretty cellophane bags tied with ribbon, this makes a great handmade gift on its own or in a gift basket.
Ginger Syrup
Strain the reserved ginger syrup through a fine sieve.
Refrigerate.
This syrup can be added to tea, fruit juice, and cocktails.