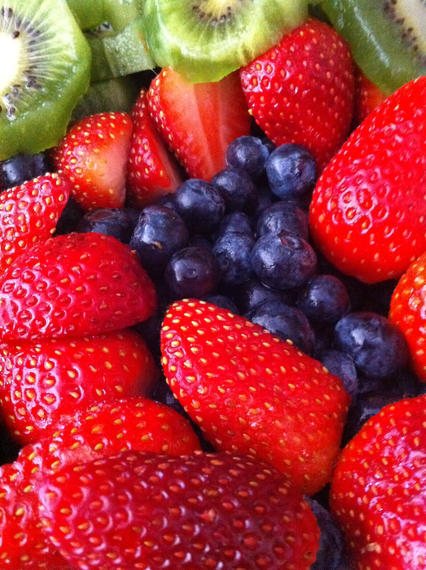 Happy New Year!
What's a great way to doctor up out of season berries?  Whip them into a salad.  Sweet or savory, marinate firm, tart berries in a citrusy spirit, with a squeeze of lemon or just a sprinkle of sugar to bring out their flavor.  It's shockingly easy to draw out an incredible depth of flavor… even with the briefest marinade.
And, after all of that rich holiday food… this is salad is a breath of fresh air.
Berry Salad
1 basket blueberries
1 basket strawberries, halved
3-4 kiwis, peeled and sliced
1-2 Tablespoons sugar
3-4 Tablespoons Aperol
(or a substitute Grand Marnier for a sweeter salad)
Combine berries in large bowl.  Sprinkle with sugar and drizzle with Aperol.  Toss gently.  Let sit for 3-5 minutes and give another brief toss before plating in a serving bowl.  Garnish bowl with slices of kiwi.
Bon Appétit!