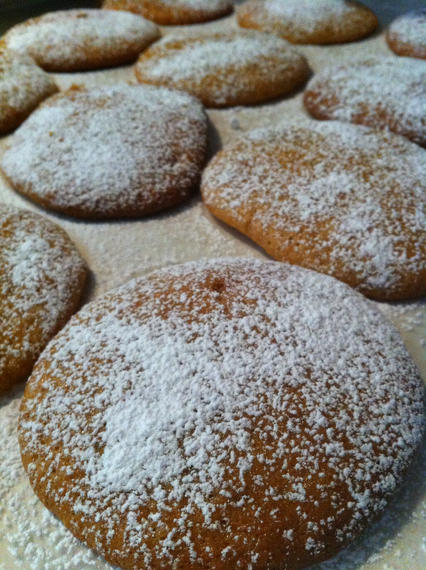 I love these cookies.  All of that great pumpkin & spice flavor is dished up in bite-sized packages.
If you have a powerful food processor, you can incorporate the entire pumpkin (flesh & skin) into this recipe.  Simply puree the roasted pumpkin until very smooth.
Pumpkin Spice Cookies
makes at least 25 cookies
2 cups AP flour
1 teaspoon baking powder
1/2 teaspoon baking soda
1/2 teaspoon cinnamon, ground
1/4 teaspoon mace, ground
1/4 teaspoon cloves, ground
1/4 teaspoon ginger, ground
1/4 teaspoon fine sea salt
1/2 cup olive oil
1 1/2 cups sugar
1/2 cup freshly roasted pumpkin, skin on,pureed until very smooth
1 egg
1/2 teaspoon vanilla extract
1/2 cup milk, scant
Preheat oven to 350 degrees F
Sift dry ingredients in a large mixing bowl.  Set aside.
Combine sugar, olive oil, pumpkin, egg, vanilla and whip until smooth.  Add milk and whip again until smooth.  Then, gently stir in dry ingredients.  Stir just to combine.
Drop small spoonfuls onto a parchment lined baking sheet.  Bake 14-16 minutes.
Let cool.  Then, dust with powdered sugar.