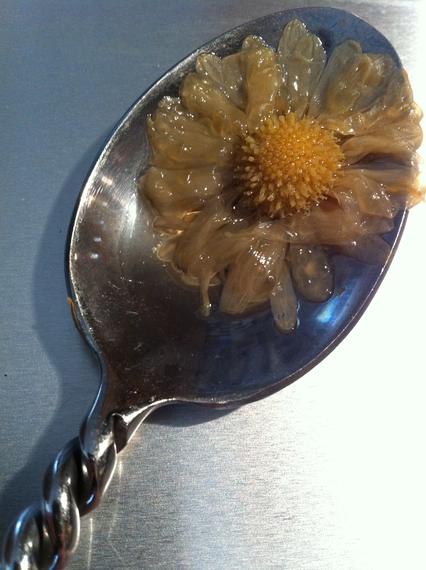 Two species of chrysanthemum are used for chrysanthemum tea.  They range in color from white to yellow.  The flavor of each is unique.  Sweet florals dominate the taste with a touch of delicate lemon in the background.  Very little sugar is needed to make the perfect cup of chrysanthemum tea.  So, it's a favorite of mine.
Chrysanthemum tea is said to be a cooling tea that aids in cooling the body and regulating body temperature.  It's a great tea if you have a bit of the flu or a sore throat.  But, I'm not waiting to get sick to drink this lovely tea.  It's perfect with dim sum, breakfast and dessert.  As a matter of fact, it's great any time of day.  Give it a try!
Goji berries can be added for flavor and additional health benefits.  But, they tend to add a sour taste that I'm not crazy about.  So, you won't find goji berries in my teapot.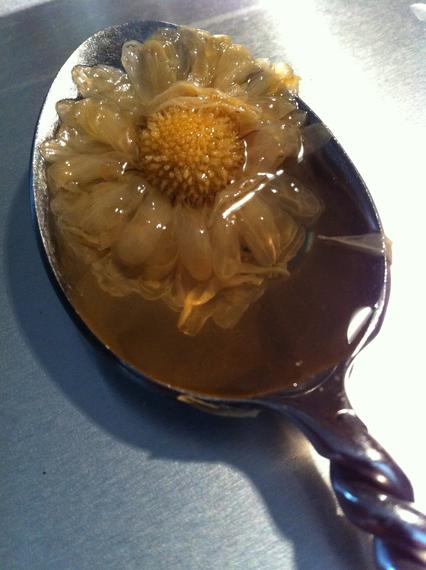 Chrysanthemum Tea
1 pot
1/2 cup chrysanthemum blossoms
1 tsp goji berries, optional
sugar, to taste
Fill one glass teapot with water.  Bring to a boil.  At the boil, reduce heat to barely a simmer and add your blossoms (and goji berries, if desired).   Keep tea at a bare simmer for 3 minutes.  Add 1-2 Tablespoons of sugar to teapot.  Give a gentle stir, then, strain your tea into your serving teapot.
Traditionally, it wouldn't be uncommon to fill the teapot a second time with water.  Bring the water and chrysanthemum blossoms to a simmer.  Then, simmer for three or four minutes.  The second pot of tea yields a lighter, more diluted tea.  Try it, if you like.