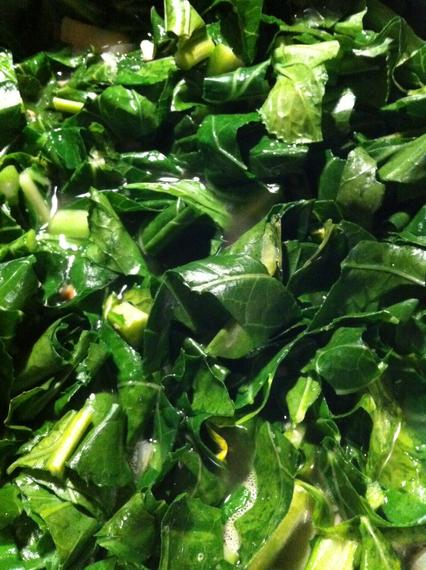 Collard Greens — Italian Style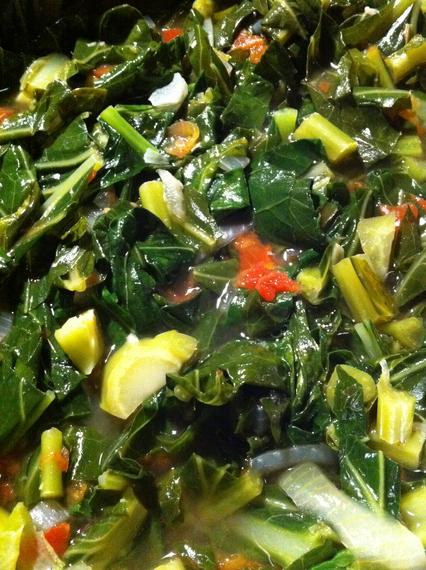 This is a dish my Grandmother would have happily eaten as a meal (probably lunch) with a wedge of toasted Italian bread.  She would've dished it up in a bowl with generous scoop of the broth.  And, she would've served it alongside two bread baskets.  One basket of bread would hold toasted & buttered bread.  The other bread basket would hold a fresh loaf of Sicilian sesame bread simply sliced.  The basket of Sicilian bread would  sit on the dining room table all day… a quick snack to nibble throughout the day.
Collard Greens
one huge pot
2 large bunches of collard greens, well washed
olive oil, as needed
2 onions, roughly diced
2 carrots, diced
2 stalks celery, sliced
4-5 garlic cloves, sliced
3-4 Roma tomatoes, diced
6-8 cups chicken stock
1 tsp red pepper flakes
1tsp fine sea salt
1 tsp black pepper, freshly ground
splash red wine vinegar
olive oil, the best you own
Separate stalk and stems from collards.  Cut the stems into a small dice.  Place in a bowl.  Set aside.  Slice leafy greens into a 1″ strips.  Place in a large bowl and set aside.
Saute onions to a light gold in a healthy drizzle of olive oil.  Then, add carrots, collard stems, celery, and garlic.  Saute for a few additonal minutes.  Then, add tomatoes, collard leaves, chicken stock, red pepper flakes, salt, pepper and a splash of vinegar.  Simmer for 15-20 minutes or until tender.
Before serving, drizzle with a stream of the best olive oil you have on hand.