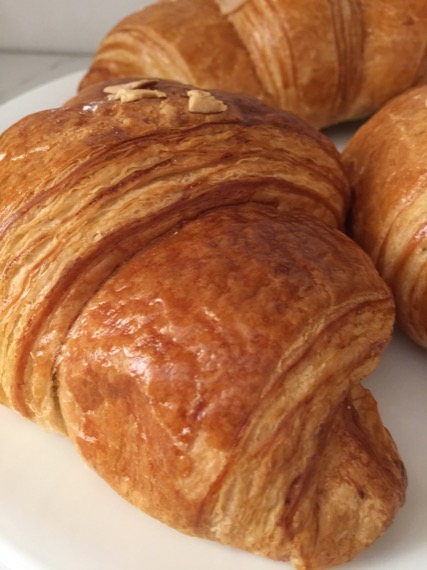 Hot Chocolate & Almond Croissant
It's what's for breakfast!
Rich, delicious, and crazily decadent.  And, even better, it's quick and easy.  This intensely chocolate rich drink should be reserved for special occasions and busy weekend days.  You made it through a hard week?  Treat yourself.  This combination will power you through a long, active day.  Everything in moderation, know your limits.  When you reserve decadent food treats for a special occasion splurge, you'll enjoy it more on those special days.
Or, better yet, that big mug of deliciousness is simply begging to be shared.  Cut that guilt in half by sharing this chocolate-y rich breakfast with someone you love.  The satisfaction of sharing turns a half of a portion equally (or, in my eyes even more) satisfying.  Food shared with those you love always taste better.
Old World Hot Chocolate
Makes 1 mug
1 big mug of whole milk
1 – 2 Tablespoon cocoa powder (to your taste)
3 ounces dark chocolate
1 Tablespoon brown sugar, or to taste
1/8 teaspoon paprika
1/8 teaspoon ground cloves
pinch white pepper, finely ground
pinch black pepper, finely ground
Heat milk in a small sauce pan.  Add cocoa, chocolate, and spices.  Stir to until smooth and creamy.  Taste.  Add additional sugar, if needed.  Pour into mug and top with a small spoonful of lightly whipped cream.  Garnish with a pinch of dark cocoa, if desired.