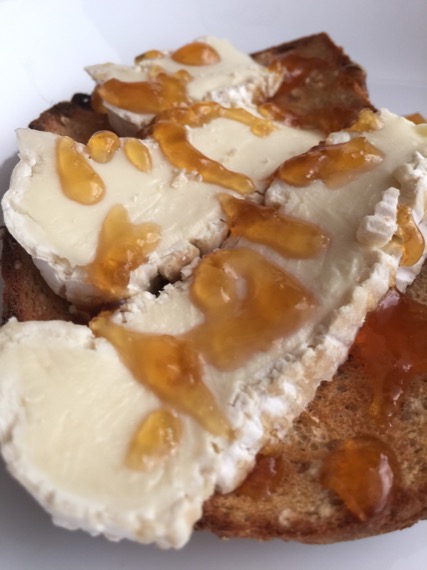 Beautiful ingredients morph into magic when they come together.
If I were in the mood to be decadent, I might've buttered my toast.  Maybe I will next time.  That sounds like something I'd like to do when the weather cools off a bit in a few months.  But, for now, this crispy, delicious combination doesn't need any embellishing.  It's perfect just the way it is.  And, it can't get any easier.
This brie had aged to perfection.  The complex sweetness of the honey brought out the funky depth of the brie into the bright light of day in the best possible way.  And, little bits of honey comb added a sweet crystalline texture that melts on your tongue.  Silky smooth brie keeps the flavor lingering on your taste buds. Without a doubt, this will be my quick and easy breakfast of choice for quite a long while.
It's a great way to start the day.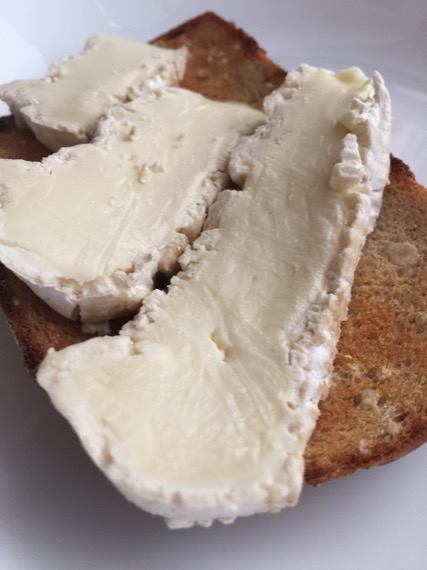 Brie & Honey Toast
makes 1
whole grain bread, toasted dark golden brown
high quality French brie
local honey with little flecks of honey comb
Toast the whole grain bread to a  deep, dark golden brown.  Then, top with slices of brie (or, if it's too hard to slice, give a good schemer).  Drizzle with honey flecked with honey comb.
Serve with hot tea and fresh fruit.  Earl Grey makes a perfect companion to this toast.