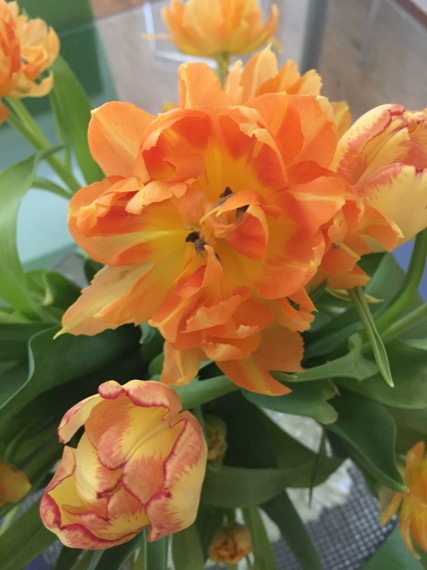 Daydream (Darwin Hybrid)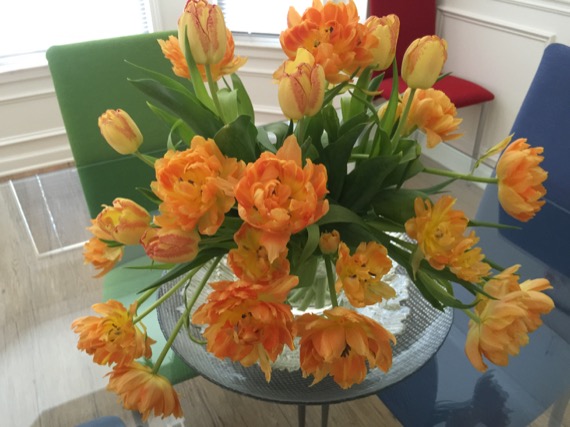 I couldn't resist these tulips.  That gorgeous shade of orange reminds me of a beautiful, dusky summer sunset. Until cut, each flower was a tight, tiny bud.  Within minutes of that first cut, each tulip literally blossomed to over triple of each flower's original size before our eyes.  Each tulip moves at its own leisurely pace.  Long stems allowed for a huge centerpiece.  After 30 minutes, the tulips were close to full bloom.  Every morning, the stems would curl in a wild, new direction.  Appearing to have a mind of their own, the flowers and stems were living art that curled into new shapes every day of the week.  Their fresh, light scent was heavenly.  (Changing the water daily, they were beautiful for exactly 7 days.)
In Other News:
Today, my basil seeds sprouted!  About 1/3 of the basil sprouts are showing two tiny leaves.
May 18:
Miraculously, everything is sprouting (except for the tarragon).  The squirrels, birds and chipmunks are trampling the beds on a daily basis in their search for water.  Even with a few lost sprouts, the majority of them are still thriving.  If we want a garden this year, we need to set up another source of water for the ever-annoying (and digging) squirrels and chipmunks.
May 20
All of the blueberries have been eaten.
May 25
It's HOT!  (86 degrees with 33% humidity)  The chive sprouts are doing fine.  But, they're a bit wilty.  All of the basil sprouts are doing very well.  And, the cilantro and dill are doing quite well, too.  With the daily trampling, a few sprouts go missing here and there.  But, for the most part, everything is doing well.  Next year, I should either add extra seeds.  Or, better yet, I should cover the beds with chicken wire to keep the animals out until the sprouts get big enough to handle the trampling.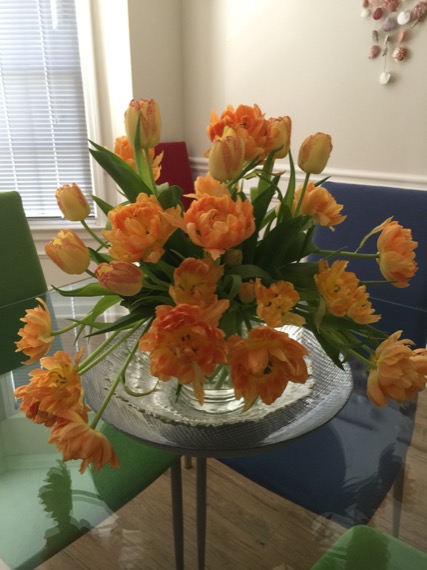 In honor of these lovely tulips:
The Tulip
makes 2
2 ounces apricot brandy
1 ounces your favorite sweet vermouth (Carpano Antica)
2 ounces Calvados
1/2 ounces lemon juice
Chill cocktail glasses in the freezer while mixing the cocktail.
Combine all ingredients with ice in a mixing glass.  Stir until well-chilled.  Remove cocktail glasses from the freezer.  Strain and divide between two stemmed cocktail glasses.  Garnish each glass with a lemon twist, if it pleases you to do so.  (Slightly Adapted from the Savoy Cocktail Book)
Cheers!