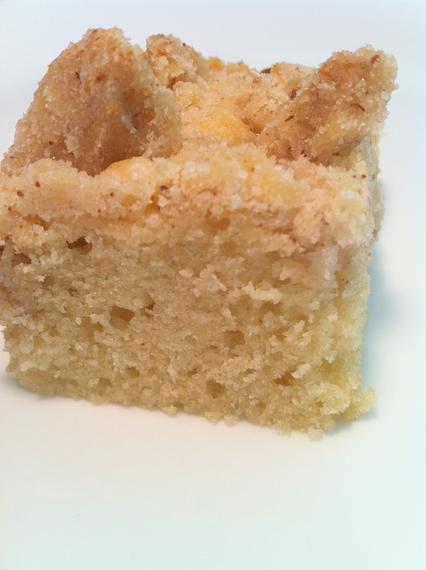 It's what's for breakfast!  (on special occasions)
Freshly ground Mexican cinnamon and nutmeg are the secret to this recipe.  The fragrance is surprisingly rich even with the relatively small amounts used.
Next time, I'll experiment with buttermilk in lieu of the yogurt.
Crumb Cake
one square baking dish
Crumb Topping:
1 cup AP flour
1/2 cup sugar
1/4 teaspoon cinnamon, Mexican, freshly ground
1/4 teaspoon nutmeg, freshly ground
1/4 teaspoon salt
1/3 cup olive oil
Preheat oven to 325 degrees F.
Combine all ingredients and stir briefly… just long enough to create crumbs.  Set aside.
Cake Batter:
1 1/4 cups AP flour
1 Tablespoon corn starch
1/2 teaspoon baking soda
1/4 teaspoon fine sea salt
8 Tablespoons unsalted butter (one stick)
1/2 cup sugar
2 eggs
1 teaspoon vanilla extract
1/3 cup creamy style vanilla yogurt
Butter 9×9 inch baking dish.  Set aside.
In a small bowl, sift the first 4 ingredients together.  Set aside.  Cream sugar, eggs, butter and vanilla.  Add yogurt and whip vigorously.  Sift in dry mixture and stir gently to combine all ingredients.  Pour cake batter into prepared baking dish.  Then, using your fingers sprinkle crumb topping over the top.
Bake at 325 degrees for 35-38 minutes.