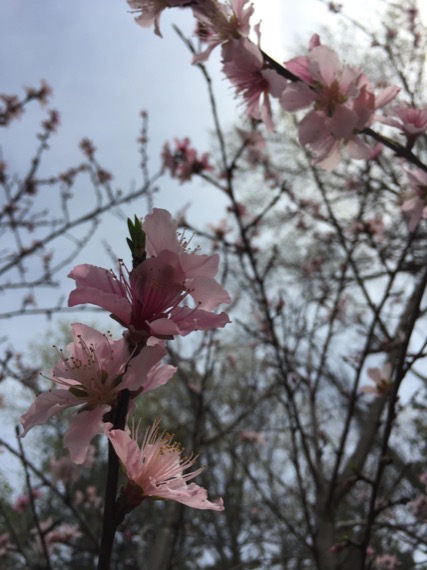 Now, I remember.
It's easy to forget over a long winter.  But, it's all coming back to me now.  If there's one headache of a garden, it's the watering system.  Something is always breaking.  Either we need to buy a new timer here… or a new timer there.  Or, the squirrels are chewing their way through the tubing to get at the water. (Or, even worse, the squirrels are digging up the bed as they run into the beds when the water timer kicks on.  This is worse because they dig at the beds as they stand there sucking at the little nozzles.  Then, when the nozzles turn off, they chew at them in an attempt to find even more water.  This causes a leak in the nozzle, tubing, or both.)
It's not the preparation of the beds, or sowing in the new soil, or planting the seeds (or seedlings).  Never!  That's the fun part.  It's anything and everything related to watering the garden.  So, now, we're one week into a new gardening year.  And, we have to buy more parts.  We need at least two new timers, a new set of little nozzles, and a few other random parts and pieces.  At least the brass pieces are holding up nicely.  (So far.)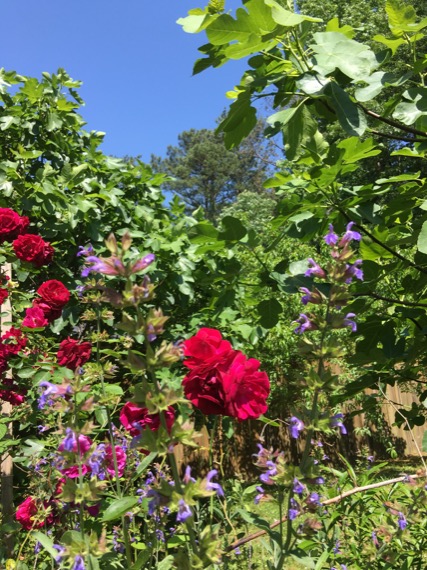 It's a jungle out there!
There was so much rain last year that we barely had to water a thing.  Everything made it through the year nicely on almost nothing but rain water.  The Dwarf Elberta peach tree is the one weak link in our garden.  It's remained almost the same size for close to two years.  If anything, it's slightly smaller this year.  We had to trim off a few dead branches.  But, it's hanging in there even though it's being crowded out by one of our fig trees.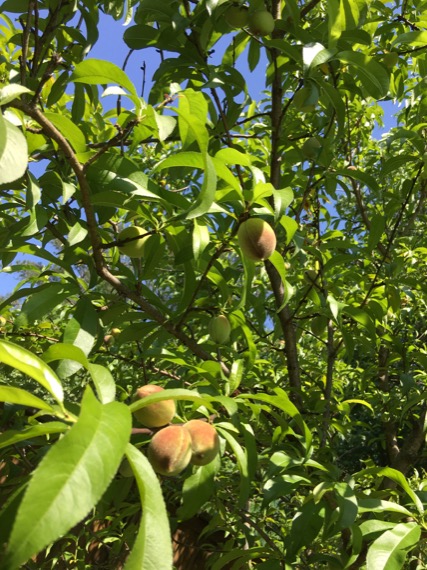 But, it's a beautiful jungle.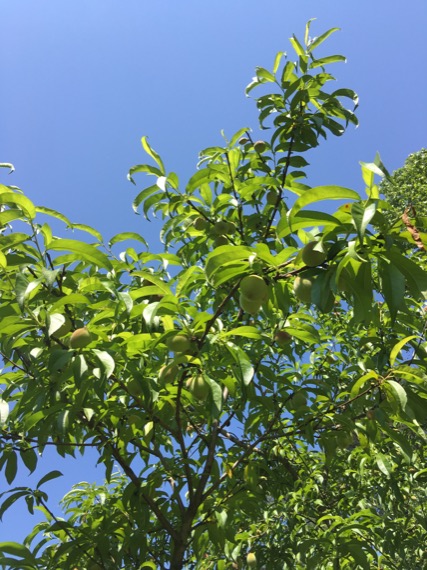 The Princess peach has grown beautifully.  We take great satisfaction in that knowledge.  It's somewhere in the neighborhood of 12-14 feet tall, quite wide and shapely.  There are currently quite a few peaches left after the windstorm.  We'd guess that somewhere around twenty or thirty litter the ground.  (at least the squirrels are eating some of the peaches those)  Between the windstorms and the squirrels, we'll be lucky to taste any this year… again.  Oh well, at least we get to enjoy watching something we planted grow to such beautiful heights.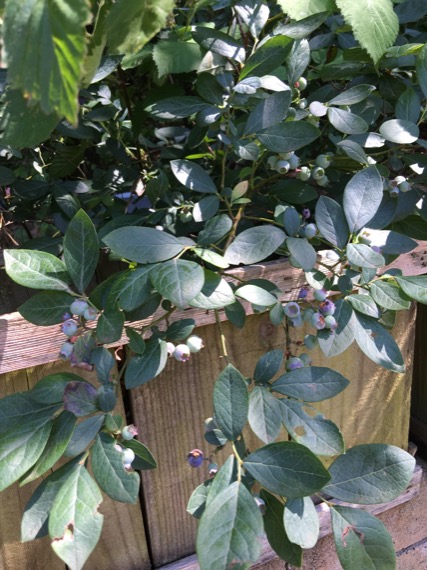 The blueberry bush has filled in quite a bit, even if it might not be the prettiest blueberry bush in the world.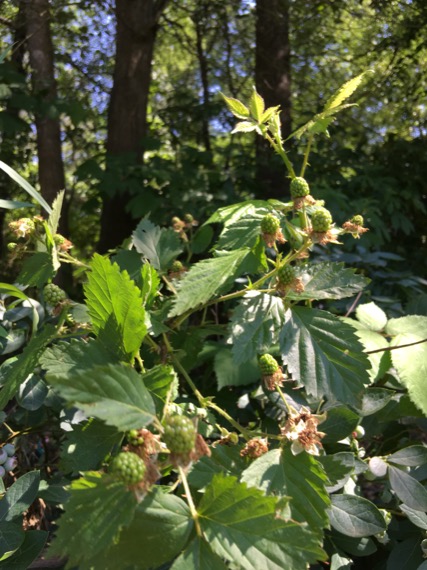 The blackberry on the hill (next to the blueberry bush is thriving.  It looks like it's trying to invade the blueberry bush's space.  So, we might have to prune it back after the berries ripen.  Hopefully, this year we'll get a taste of them.  Last year, the squirrels devoured the lion's share of berries.  We were lucky to get to taste a couple of ripe berries.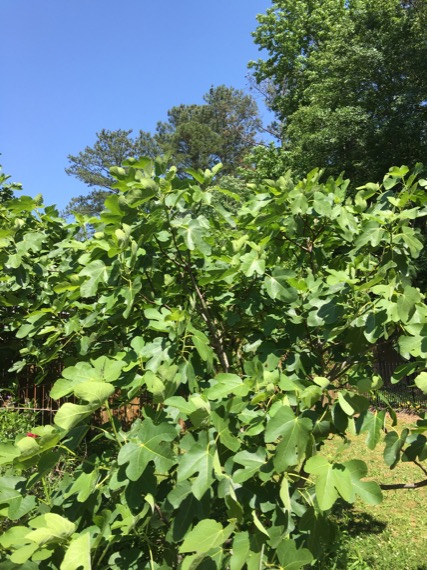 The Black Mission fig tree on the left side of the patio is thriving.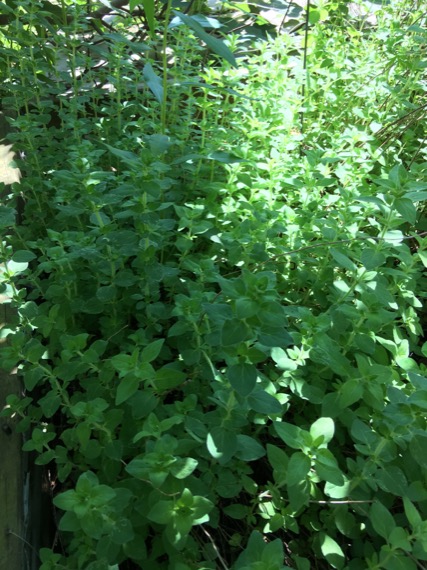 Even in the shade of one of the fig trees, the Greek oregano continues to thrive.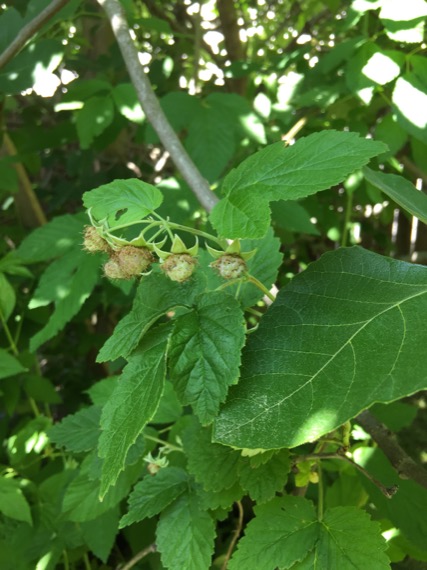 The raspberry stalks are beautiful and very healthy.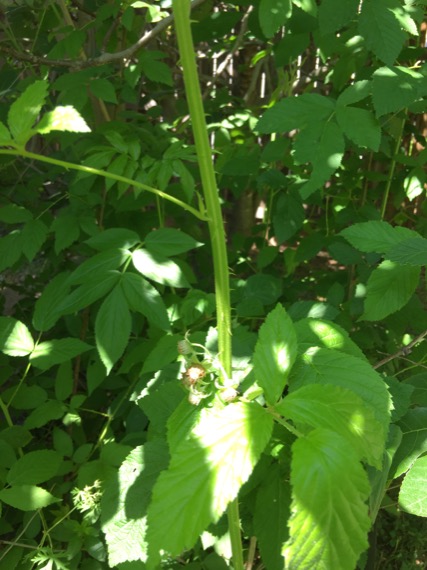 The raspberries have too many stalks to count.  They're filling up their bed, thriving and covered with green berries.  Though, last year, we only managed to taste a handful of berries each.  We missed picking a small patch that we didn't see until it was too late.  Birds, squirrels, and chipmunks got the rest.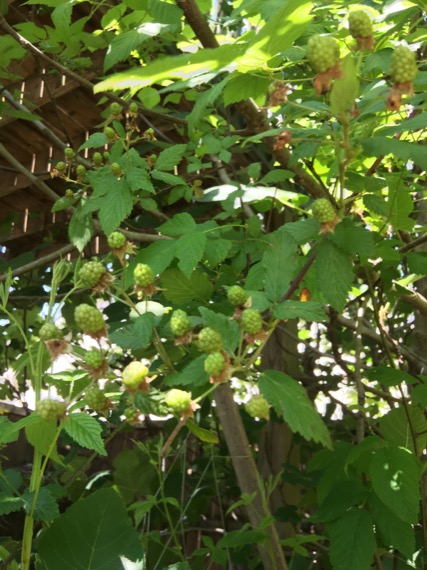 Some berry stalks are climbing the fig tree.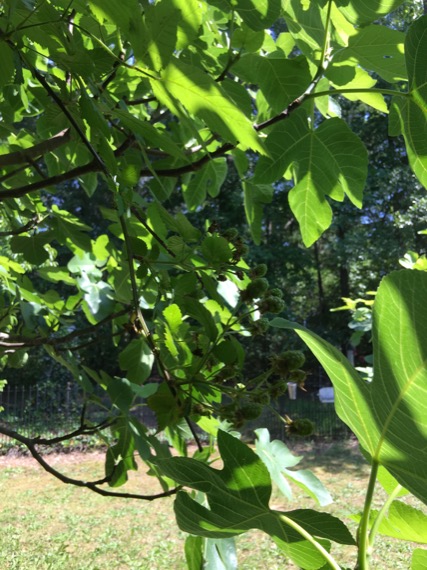 We'll need to prune those branches in the fall.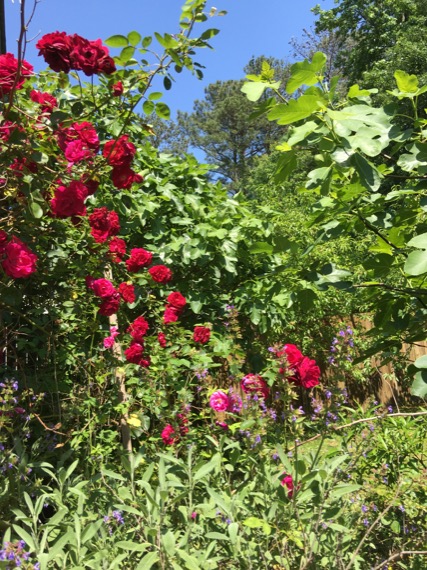 Rambling Red Roses & Purple Sage Blossoms
Both fill the yard with the loveliest fragrance.  My unwieldy, free-form rosemary shrub remains their only fragrant competition in the back yard.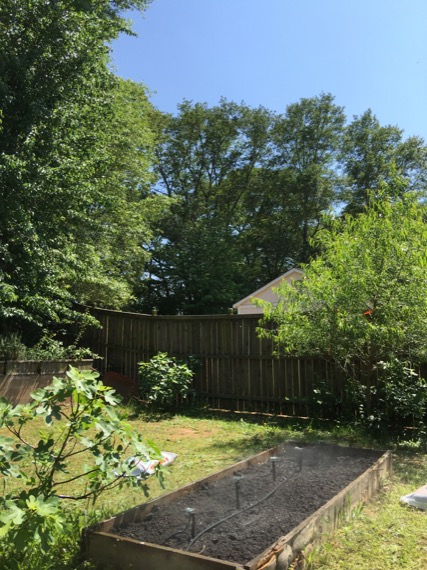 The Black Mission fig tree on the right continues to grow much slower with two to three hours less of daylight sun.  It's less than four feet tall with just over a dozen branches.  The willow tree on the far right literally planted itself about two (or three) years ago.  And, it's grown even taller since this picture was taken.  We'd guess that the tiny stalk at the very top is at least 14 feet tall.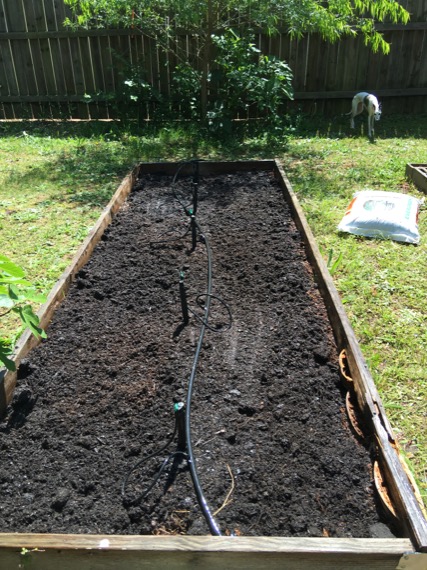 The wooden raised bed is completely rotten on the right side.  We'll need to re-do this raised bed in the fall or next spring.  If we don't plant a winter garden, we'll wait until spring.  There's no need to leave a fresh, wooden bed to sit and rot over a long, damp winter.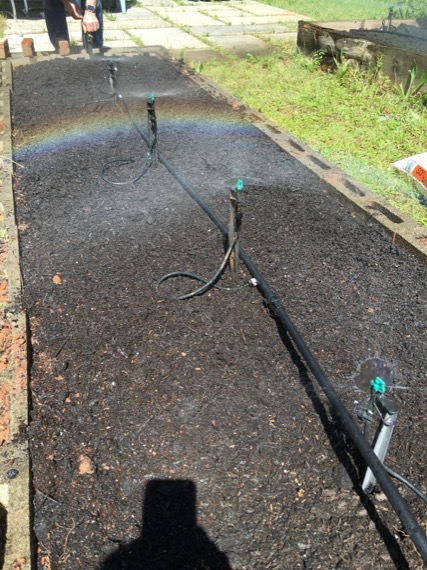 By far, the raised concrete block planting bed is the endurance winner.  After six years (this is the 7th spring planting season), the concrete blocks look almost brand new.  If we run the pressure washer over the edges at the end of summer, they will look completely brand new.
—
Garden Additions To The Raised Beds:
Dark Opal Basil
Spicy Bush Globe Basil
Genovese Basil
Tarragon
Serrano Peppers
White Lisbon Bunching Onions
Mammoth Dill
Garlic Chives
Common Chives
Deck:
Genovese Basil
Thyme
Oregano
Chocolate Mint
Sweet Mint
Scallions
Hill Area:
Rosemary
—
It's time for a Y Holiday!
After all of that work, I need a little weekday treat.  Today, that treat will be a cocktail.  Here's a very worthy variation on the Sidecar for days that end in Y holidays.  Days like.. Today!  Make every day a holiday.
….if you can
Bourbon Sidecar
makes 2
3 ounces Maker's Mark bourbon
2 ounces Grand Marnier
juice of 1/2 lemon
coarse sugar, for dusting
two orange curls, to garnish glasses
Cut a small wedge of lemon.  Brush the rim of two stemmed cocktail glasses.  Dip each glass in coarse (or granulated sugar) sugar.  Set aside to dry.
Combine bourbon, Grand Marnier, and lemon juice in a mixing glass with ice.  Stir until well-chilled.  Strain and divide between your two prepared glasses.  Garnish with orange curls.
Cheers!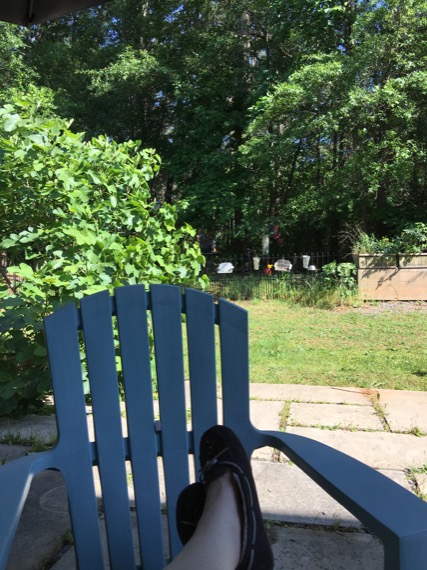 And, while someone watched from the shade with an icy, cold beverage…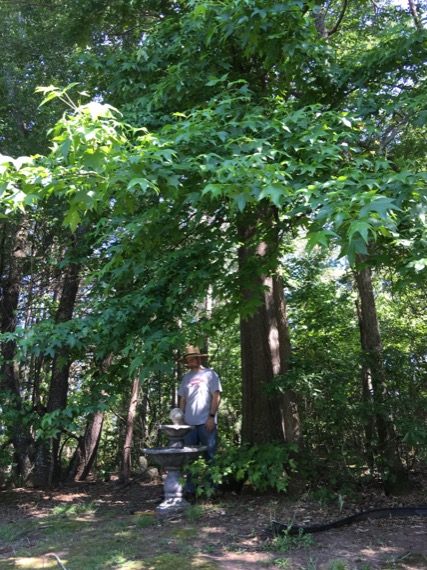 Our old fountain moved into the shade with some help.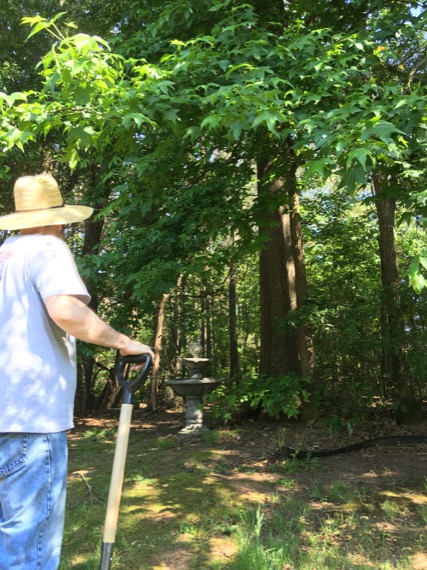 Then, we admired our hard work.