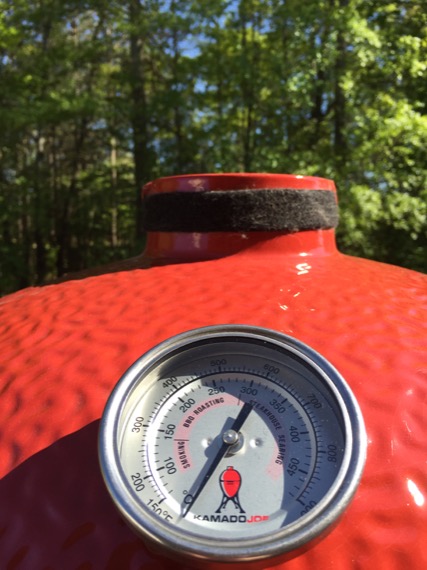 The Kamado Joe
Big Joe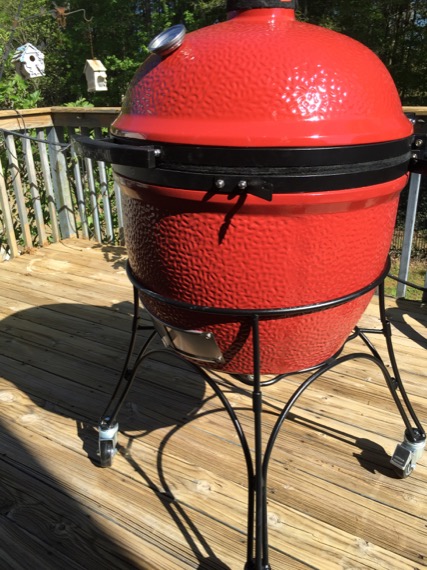 The Big Joe
It doesn't really take up the whole deck.
…it just looks that way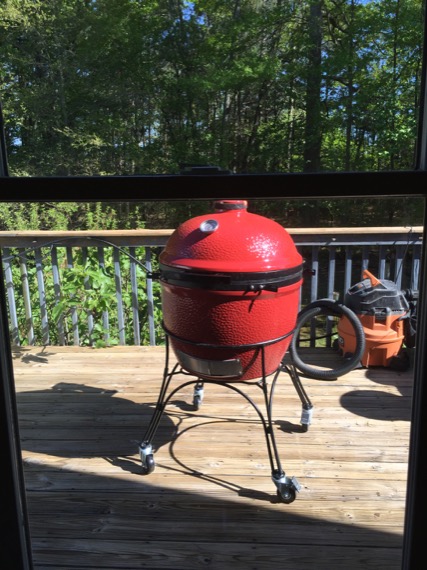 (We tidied up our deck for its new occupant.)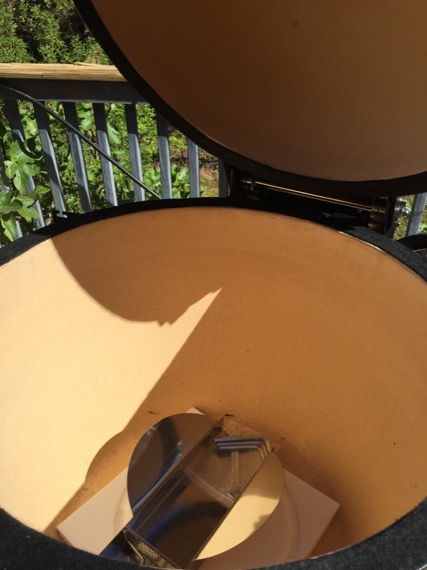 It will never look this clean again.
It took almost 3 people to haul this big boy up to its elevated location.  (The third person had to remove the deck door.  This fatty can't make it through a standard door frame.)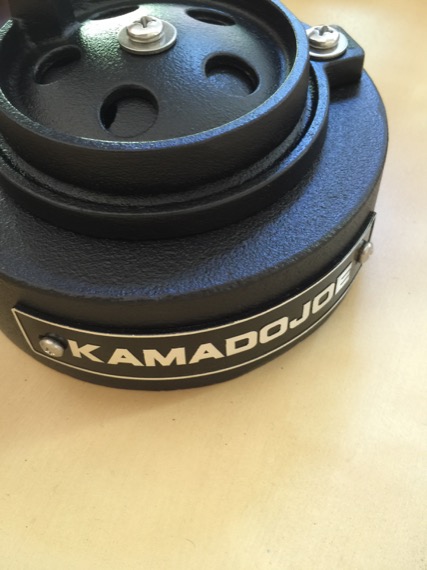 Heavy Duty Cast Iron Top Vent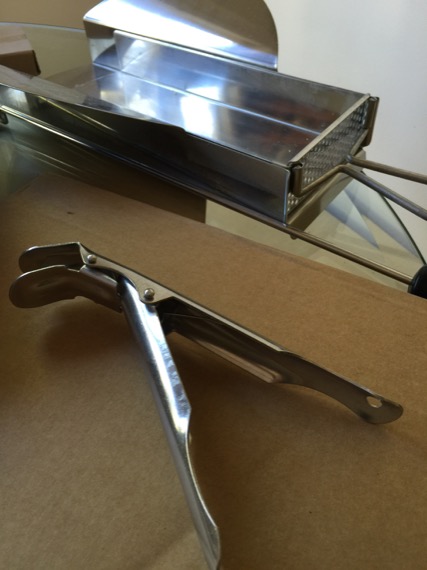 All of the pieces are made of high quality stainless steel…
…and they feel (extremely) heavy duty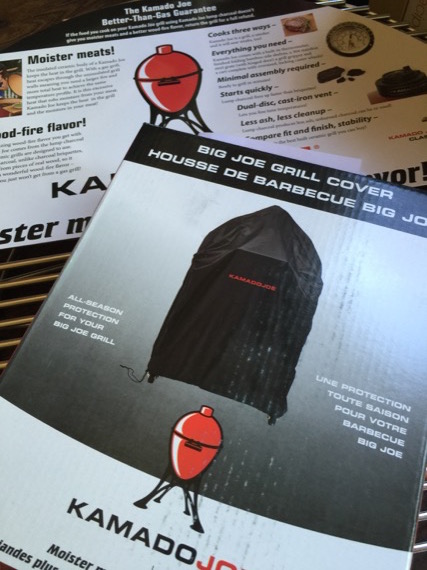 We lucked into a great deal at Costco.  It came with all of the divide and conquer flexible cooking system pieces(which includes a fire box divider), heavy duty cast iron cart with locking wheels, heavy duty stainless steel ash drawer with tight sealing vent, grill griper, ash tool, fire starters, starter kit, video, AND a Big Joe Grill Cover.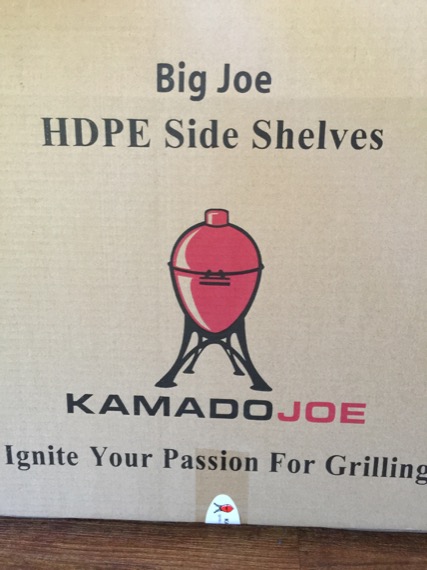 The two side shelves have plenty of room for a couple plates or one giant platter.
Assembly is really a piece of cake.  But, if you're perfectionists like we are, you'll waste about an hour watching and rewatching the video and a few YouTube videos for good measure before you decide to go shopping for a couple steaks, fresh corn, and marshmallows (Yes, we're children at heart).  Then, you'll end up starting your fire at almost 9pm (for the first time).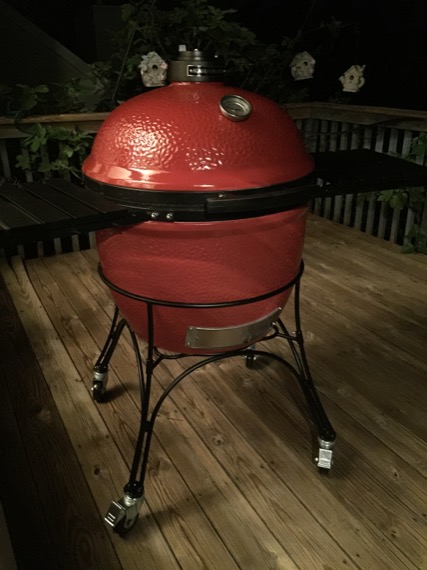 We really love it!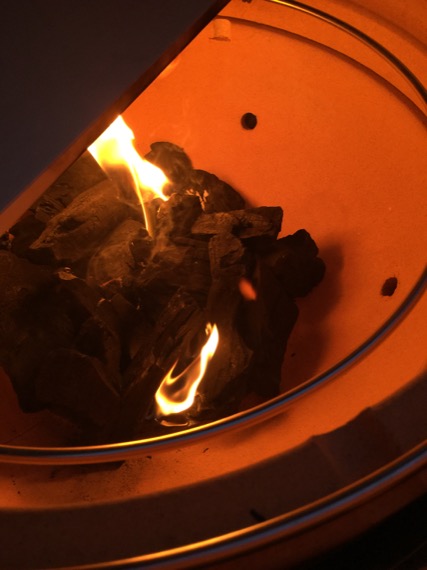 The big lump charcoal makes such a big difference in the final flavor.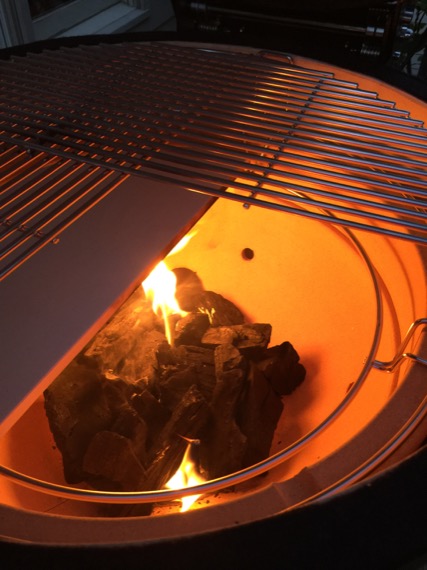 And, here's another last look at our pretty (clean) grill interior.
—
Let's start off with the facts:  There is a definitely a learning curve.  That learning curve might be a bit harder to overcome when we're out in the pitch black at 10pm trying to cook our first steaks.  The temperature was dropping by the second.  And, we believe that we didn't put enough hardwood charcoal in the grill.  So, we're already starting off on the wrong foot.
Guess what?
That's ok.  It all worked out in the end.  We don't really know how.  Stupid luck?  Probably.  But, we ended up with some seriously delicious and tender medium rare ribeye steaks.
We were told that it should take about 20 minutes to heat up our Big Joe.  It took us at least an hour after getting off to a bad start.  We initially closed the grill too soon on the first try and accidentally put out the fire.
—
Fast forward about an hour…. and we're starving!  So, we decided to grill some bread.  After two minutes over premium hardwood charcoal, a slice of Kroger's most basic (and uninteresting) bread was delicious.  Yes, we were starving.  But, still…
We have some guesses about this.  Grocery store bread tends to taste a bit on the raw side.  A few minutes over high, smoky heat does this mediocre bread a bit of good.  The crust crisped up nicely.  The outside had a nice gentle smoky flavor.  And, the interior was hot with a nice chewy bite.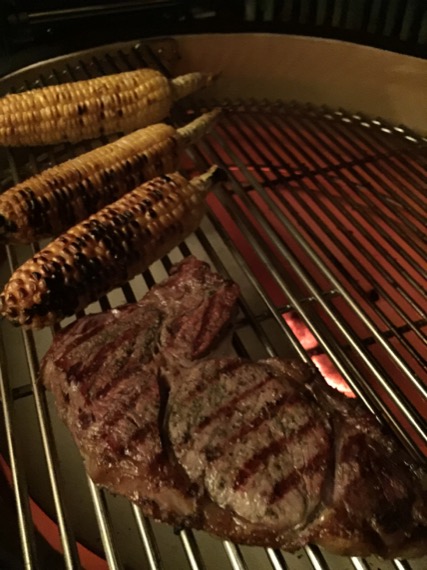 We brushed the corn with soft butter and a light sprinkling of parmesan.  It was simple and quite good.  But, we'll be working to improve this one.  We both love grilled corn on the cob.  So, this won't be a hardship.
In a miraculous feat of dumb luck, the steaks were tender and delicious.  Again, it's not just the grill that makes this magic.  It's the high heat, quick cooking combined with a well-insulated grill and premium charcoal.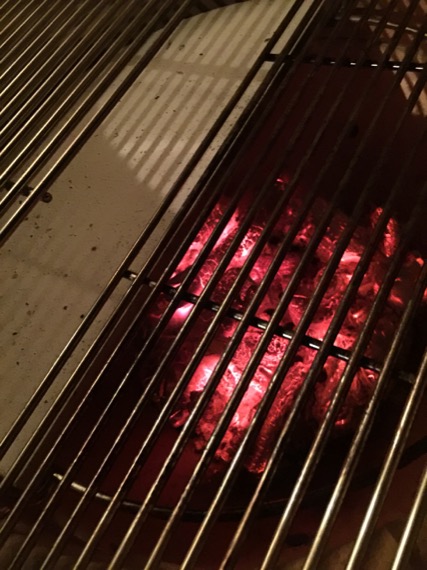 We can't emphasis enough the beauty of premium hardwood charcoal in big chunks.  It's the flavor of steak house steaks that we've always been missing in our home cooking lives.
(Below, these times were on a late, cold (50 degree COLD and breezy spring) night.  We'll be experimenting with times as the temperatures rise this spring and summer.)
—
Day One
Grilled Bread
1 inch thick slices Kroger's $1.50 fat loaf
400 degrees F — grill 1 minute per side over direct heat with the grill closed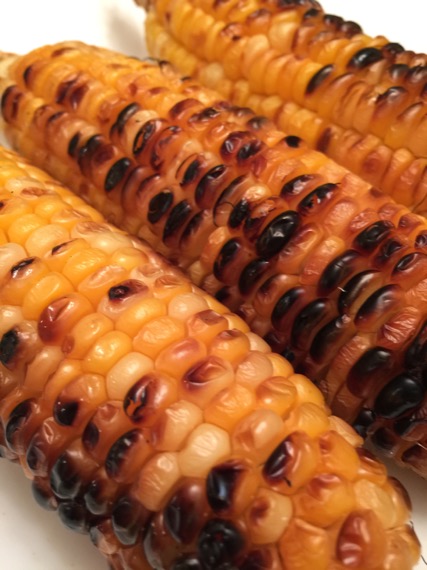 Corn On The Cob
corn on the cob, freshly washed
400 degrees F — 3-4 minutes per side over direct heat with the grill closed, or until roasted to your liking
— Then, move to indirect heat side of the grill for at least 15 minutes with the grill closed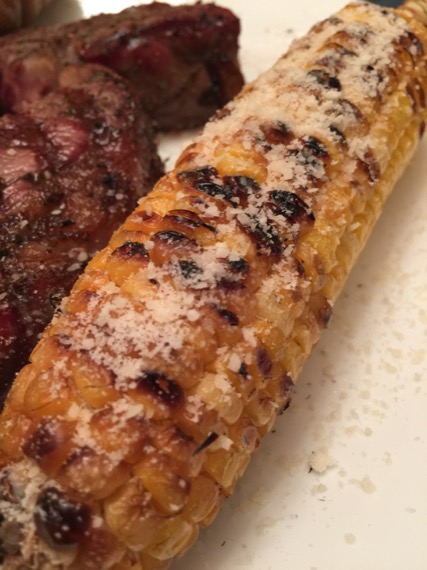 The corn was lightly brushed with butter and a light sprinkling of parmesan topped it.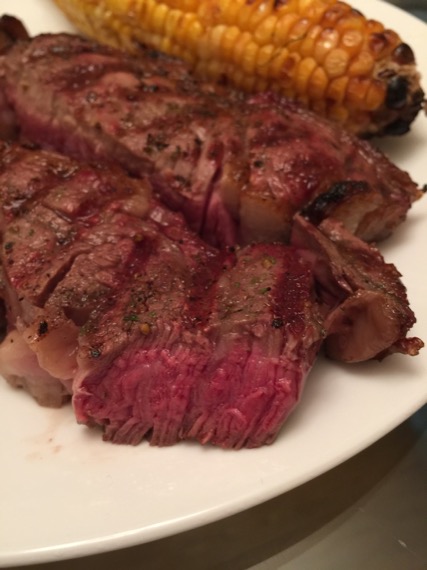 So incredibly tender…
and the flavor…
We can't believe these were our first two steaks on the Kamado grill.  The end result was significantly better than we expected for our first try.  After resting, we sliced them right down the middle.  And, the cooking was even from one end to the other.
Ribeye Steak
Steak Rub
sprinkle of freshly ground fennel
sprinkle of freshly ground black pepper
sprinkle of Italian flat leaf parsley
light sprinkle of fine sea salt
(Due to our first time efforts to start the fire, our steaks sprinkled with steak rub rested about 72 degrees F  for about 1 hour.  We don't know if this contributed to the tenderness of our steaks.  But, we will say, these steaks were incredibly (surprisingly) tender.)
425 degrees F — 3 1/2 minutes per side for 3/4 inch thick ribeye steaks over direct heat with the grill closed
Let rest for 4-5 minutes before serving.
(The directions for this stated to preheat to 500 degrees F.  Then, cook for 3-4 minutes per side over direct heat with the lid closed.  Then, place over indirect heat for one minute with the lid closed.  But, we were afraid that we hadn't used enough hardwood charcoal.  And, we were afraid that our fire was going out after getting off to such a slow start.  We're lucky this worked out since we didn't follow the directions.)
—
The Second Day
We used a more generous amount of hardwood lump charcoal.
Fire Starting:
It took 10 minutes with the grill open.  Then, we closed the lid and partially closed all of the vents for 10 minutes.  (In total honesty, we probably should have started grilling at 8 minutes.  By the time the full 10 minutes were up, the grill had reached 550 degrees F.  So, everything cooked up a bit faster than we had intended.)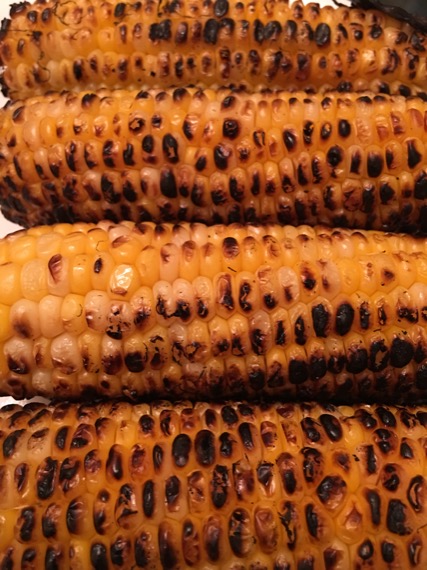 Corn:
It charred nicely with about 3 minutes per side over direct heat.  Then, about 15 minutes over indirect heat.  The end result had a nice char with tender corn on the inside.  (But, ideally, we think it charred up a bit nicer at about 450 degrees.  Then, we'll move it to the indirect heat side for a bit longer than 15 minutes.)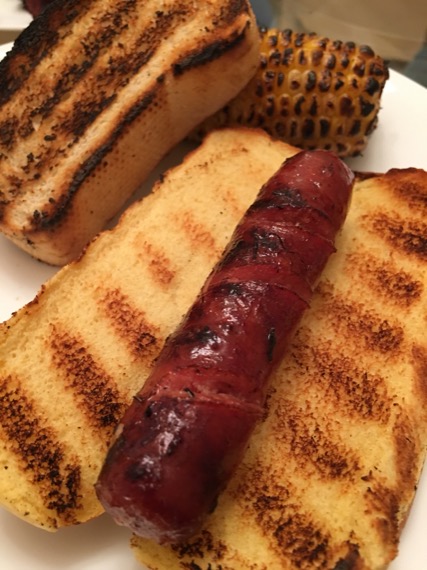 Sausages:
Different types of sausages grilled up nicely in a range of 10-15+ minutes.  (Next time, we'll cook sausages over a slightly lower heat for a longer time frame.)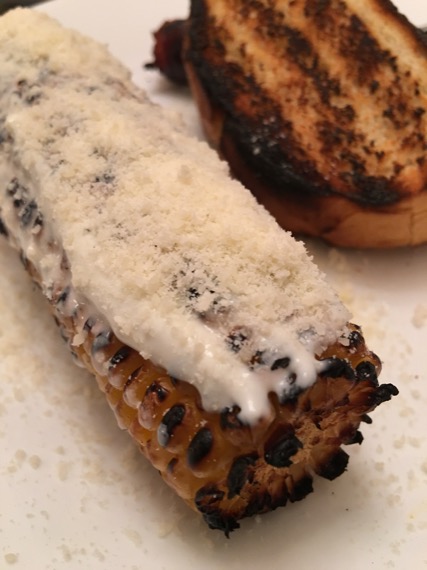 Char Grilled Corn With Sour cream & Parmesan
(Or, home-made bleu cheese dressing & parmesan)
Both versions were very tasty.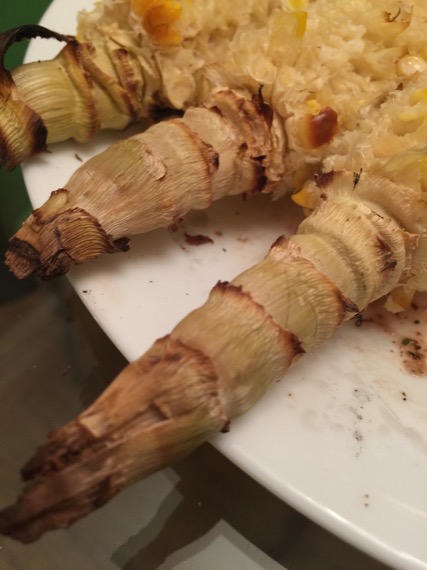 Who needs corn holders?  The stalk makes a lovely built in holder.