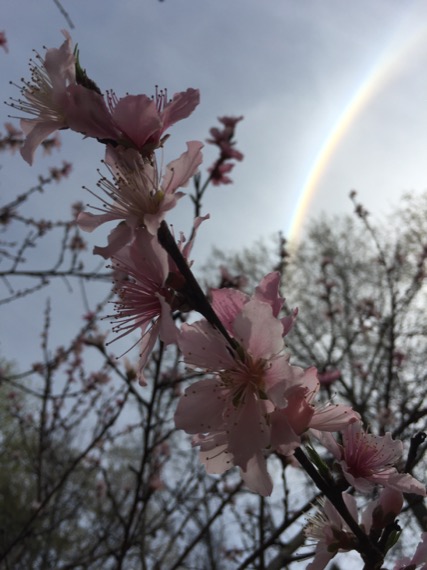 Wandering around the back yard, I wanted to grab a few quick shots of my new peach blossoms.  They were beautiful.  Again.  Every year the sight of these blossoms has made the effort of these peach trees worthwhile… even though we've only been able to enjoy a couple handfuls of peaches.  Between the late freezes, heavy winds, and the squirrels, the peaches either fall too early or the wildlife claims them as their own.  I was so busy looking at the peach blossoms.  I didn't see the big picture.  But, as I pointed the camera up and snapped a quick shot.  I paused and took a look.  There it was.  A bright rainbow was hiding in the clouds.  I looked up and enjoyed the sight.  After enjoying the sight of it for a few moments.  I had to blink.  My eyes were watering from the bright light.  Then, I looked back up.  It was still beautiful as the colors began to fade.  After another blink or two it was gone.  Don't let the pretty little things fade away without enjoying every second of their beauty.
Enjoy each and every minute of your life.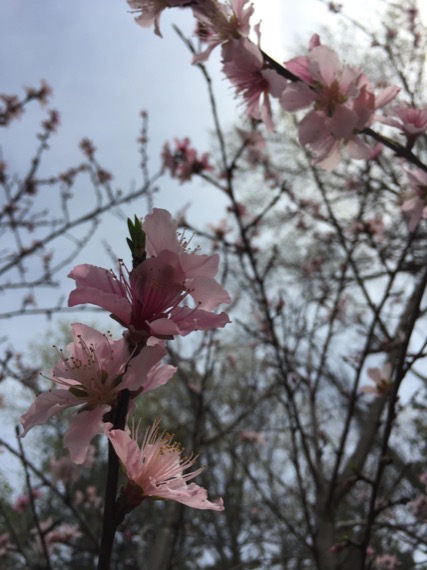 Beauty hides in plain sight.  Can you see it?
Happy St. Patrick's Day!!
Colcannon
makes one big pot
6 large Irish potatoes, peeled, diced and boiled
1 cup of cabbage or kale, roughly chopped
4 Tablespoons Kerrygold butter, soft
cream, as needed
3 scallions, finely minced
1 small handful of chives, minced
1 small handful of flat leaf parsley, finely minced
1 teaspoon fine sea salt
1/2 teaspoon black pepper, freshly ground
In a large pot or dutch oven, melt butter.  Add cabbage or kale.  Wilt.  Then, add potatoes. Mash until smooth and creamy.  Fold in other ingredients adding cream as needed.  Taste and add more salt and pepper, if needed.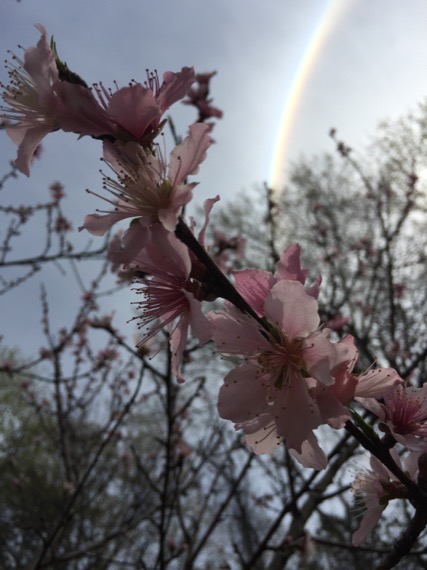 Did you ever eat Colcannon, made from lovely pickled cream?
With the greens and scallions mingled like a picture in a dream.
Did you ever make a hole on top to hold the melting flake
Of the creamy, flavoured butter that your mother used to make?
Yes you did, so you did, so did he and so did I.
And the more I think about it sure the nearer I'm to cry.
Oh, wasn't it the happy days when troubles we had not,
And our mothers made Colcannon in the little skillet pot.