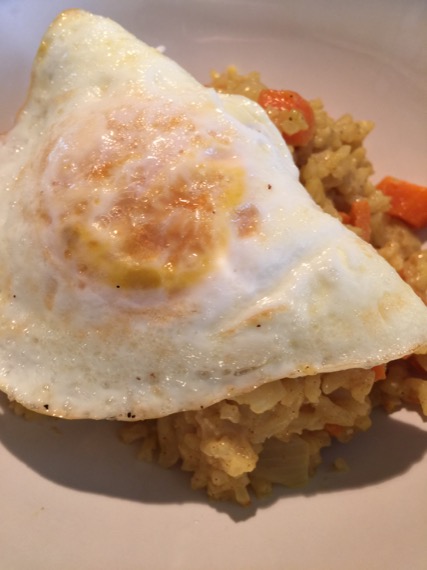 My favorite lunch of the week…
One White Oak Pastures egg makes this simple dish something special.  Rich, savory, spicy rice blended with plenty of vegetables, that's a rice dish I want to eat.  Emphasis on rich, this could be slimmed down a bit by substituting low fat milk (or, for a much lower fat, vegetable stock) for the half and half.  But, as is, a small scoop of rice and one egg makes for a hearty meal.   I'm usually not a snacker.  Ok, maybe I'll sneak a snack hear and there.  But, for the most part, I like to stick to meal times for eating.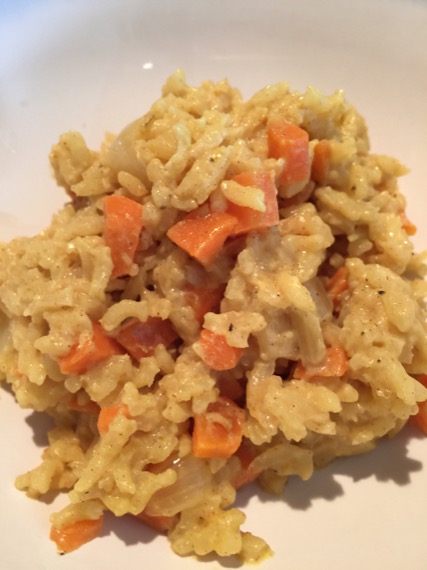 Add easy prep.
That means this will surely be added to my regular week day lunch lineup.  It took so little effort.  It's almost too easy.  Chopping up carrots also gives you a great excuse to nibble on a carrot stick or two while you're waiting for the rice to cook.  In case you haven't noticed.  I love carrots, raw or cooked.  I'm always adding an extra carrot to a dish when I can.
It's really amazing how easy it is to cook good food.  There's no excuse not to do it everyday.  Sure, it took a few steps to get to the final product.  But, each step is a piece of cake.  When dicing two carrots constitutes the most hands on time in a recipe, you know you have an easy recipe for the books.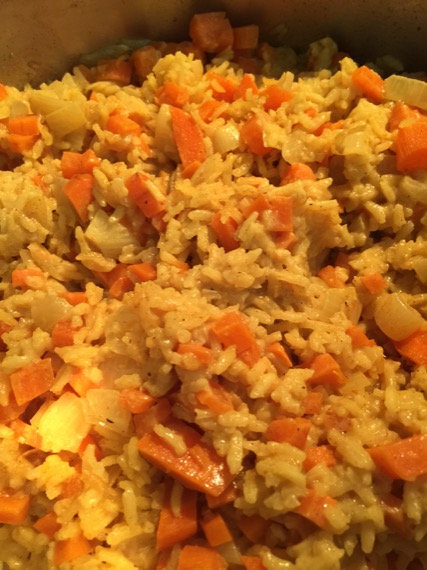 First, prep the rice.  With one large bowl and a plenty of fresh water, wash it.  Then, soak it.   Then, cook it.  1, 2, 3…
It's as easy as that.
Vegetable Biryani
makes 1 large pot
1 onion, diced
2 large carrots, diced
3 Tablespoons butter
3 cloves garlic, minced
1 Tablespoon Garam Masala
1/2 teaspoon coriander
1/2 teaspoon red pepper flakes
1/2 teaspoon turmeric
1/4 teaspoon cinnamon
1 cup long grain rice, washed and soaked
3 cups water
1/2 cup half and half (or substitute milk)
1 1/2 teaspoons kosher salt
Wash rice with fresh water in a large bowl at least 3 times.  Or, continue to wash and drain until the water runs clear.  Soak for 20-30 minutes.  Drain.  Set aside.  Preheat oven to 350 degrees F.
In a dutch oven, sauté diced onion in butter.  Add carrots, garlic and spices.  Stir.  Then, add water, milk, and salt.  Stir gently and bring to a boil.  Cover.  Place in the preheated oven for 20-25 minutes. Stir after 10 minutes.  Cover, place dutch oven back into the oven and continue to cook at 350 degrees F for 10-15 minutes.  (The rice is very tender at 25 minutes.  Next time, I'll take the rice out at 22 minutes.)
For a quick and easy lunch, top with an egg fried over easy.  Serve with grilled chicken or meat.