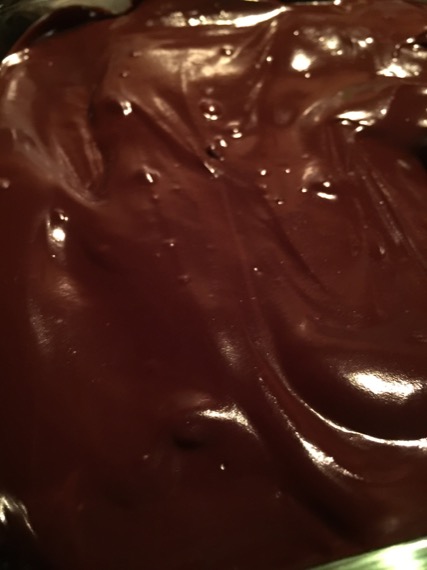 Chocolate Snack Cake With Dark Chocolate Ganache
Double chocolate-y glossy goodness…
This chocolate snack cake is tender, but quite dense.  It's a bit of a cross between a dense cake and a cake-y brownie.  With a rich cake like this, a small square or wedge works nicely as a treat to happily satisfy you.
Do you like to end a meal with a little sweet treat?  I do!  One little square will satisfies my dessert craving after dinner.  On days when I crave a bit more, I just add a big mug of coffee.  This helps me to linger over my little treat.  By the time I finish my mug of coffee, my craving for sweets has been satisfied.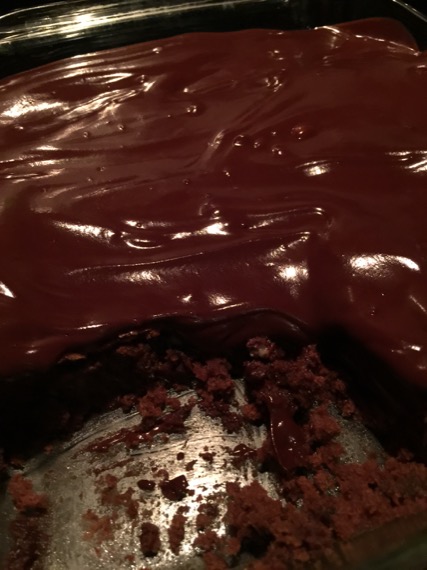 For a more brownie-like cake, add a scoop of dark chocolate chips, or chopped pecans (or nut of your choice), or dried berries, or even raisins.
Chocolate Snack Cake With Dark Chocolate Ganache
makes 1 – 8×8 inch baking dish
1 1/2 cups all purpose flour
½ cup natural baking cocoa
1 teaspoon baking powder
½ teaspoon fine sea salt
3/4 cup half and half, (milk, or buttermilk)
1/2 cup butter
1 teaspoon vanilla
1 large egg
1 1/4 cup granulated sugar
1 cup dark chocolate chips, or nuts… or nuts and raisins, optional
Preheat oven to 350 degrees F.
Sift flour, cocoa, baking powder, and salt in a small bowl.  Set aside.  Cream butter, vanilla, egg, and sugar.  Add flour mixture to creamed mixture.  And, add half and half.  Beat to combine.  Stir in chocolate chips, if you like.  Pour into well-buttered 8×8 inch baking dish.
Bake at 350 degrees F for 40-45 min in 8×8 inch baking dish.  Let warm for about 20 minutes before making the glaze.
Chocolate Ganache-y Glaze
makes glaze for 1 – 8×8 inch baking dish
1 cup 80% dark chocolate or dark chocolate chips
1 Tablespoon butter
splash of cream or half and half (less than 1/4 cup)
Melt chocolate chips.  Stir.  Add a splash of warm cream.  Stir and add a small squares of butter.  Stir until glossy.  Glaze cake immediately.