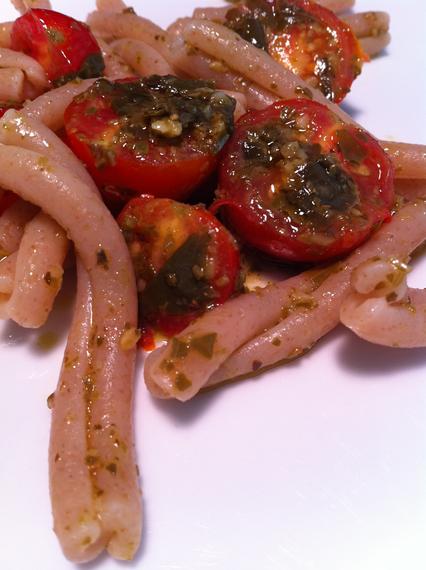 For me, it's particularly important to cook alternative grain pastas to a proper al dente.  Alternative grains tend to have an unpleasant texture when overcooked.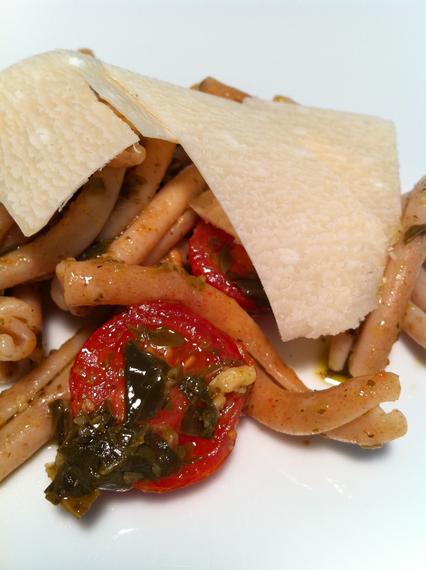 Farro Casareccia with Tomatoes & Pesto
1 package farro casareccia, cooked al dente
4 Tablespoons hot pasta water
4 Tablespoons pesto
2 cups cherry tomatoes, halved
1/4 teaspoon red pepper flakes
Garnish
slivers of Parmigiano Reggiano
Reserve 1/2 cup pasta water at the end of the cooking process.  Strain off remaining water and leave pasta in the hot, heavy bottomed stock pot.  Add pesto, pasta water, and red pepper flakes.  Toss pasta and allow to sit for approximately 2 minutes.  Stir twice. Then, gently add cherry tomatoes.  Stir and allow the pasta to heat the tomatoes.
Serve immediately with slivers of Parmigiano Reggiano.
Pesto
1 cup tightly packed basil leaves
1/4 cup pine nuts
olive oil
1/4 cup freshly grated Parmigiano Reggiano
Process pine nuts and basil to a rough chop.  Drizzle in olive oil (approximately 1/4 – 1/3 cup) and process to a thick ,yet chunky, paste.  Place basil mixture in a small bowl and gently stir in grated Parmigiano Reggiano.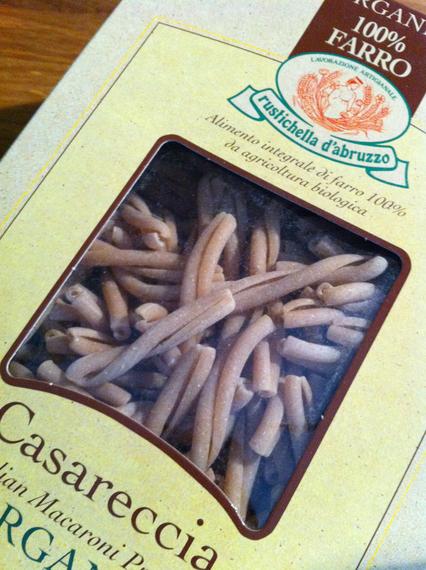 Source for farro casareccia:
Alon's Bakery & Market
4505 Ashford Dunwoody Road
Atlanta, GA 30346
678 397 1781