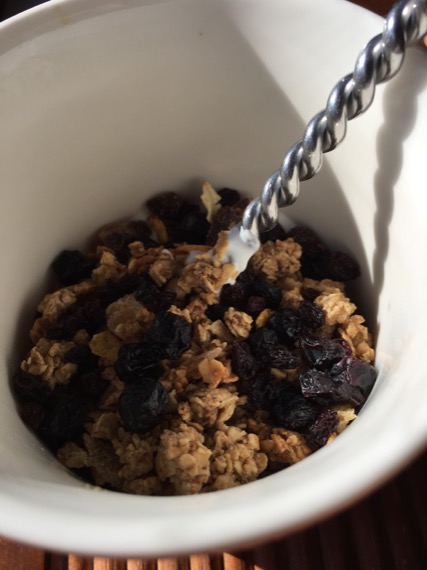 Who has time to mess around in the kitchen first thing in the morning?  I don't.  That's for sure.  So, the best weekday breakfast is a quick and easy breakfast.  This fits the bill.  And, it's so satisfying and delicious it feels like a treat.  The only way to make this a better breakfast would be to add a big mug of strong coffee.
The combination of spices work beautifully with rich, Greek yogurt. This recipe will definitely find its way into my pantry well into this new year.  Gingerbread spice is just too good to wait another 11 months to enjoy.  I'll be making another gingerbread snack cake soon, too.
Next time, I'll add a small handful of fresh blueberries or sliced strawberries
Gingerbread Granola Parfait
makes 1 breakfast
1/2 cup Greek yogurt
1/4 cup gingerbread granola
1 handful dried blueberries
1 Tablespoon dried currants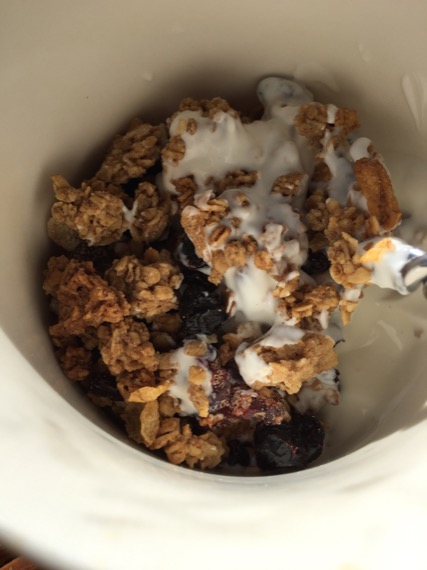 Stir and enjoy!
Gingerbread Granola
makes about 5 cups
4 cups oats, thick rolled oats
4 Tablespoons butter, melted
4 Tablespoons honey
1/2 teaspoon fine sea salt
1/2 cup sugar
1/2 cup flour
1/2 teaspoon cinnamon
1/2 teaspoon gingerbread spice blend
1/2 cup candied ginger, finely chopped
1/2 cup raisins or currants
Preheat oven to 375 degrees F.
Combine oats, melted butter, honey, salt, sugar, flour, cinnamon, and gingerbread spices in a large mixing bowl.  Toss to combine.  If needed add a splash or two of water to make mixture form crumbs.  For bigger crumbs, press mixture flat on a baking sheet covered with parchment.  Bake at 375 degrees F on a baking sheet for 20-25 minutes.  Let cool.  Break into crumbs.
Gingerbread Spice
1 Tablespoon cinnamon
2 teaspoon ginger
1 teaspoon nutmeg
1 teaspoon clove
Other possible additions:  1/2 teaspoon allspice, 1/2 teaspoon mace, 1/4 teaspoon black pepper (finely ground)