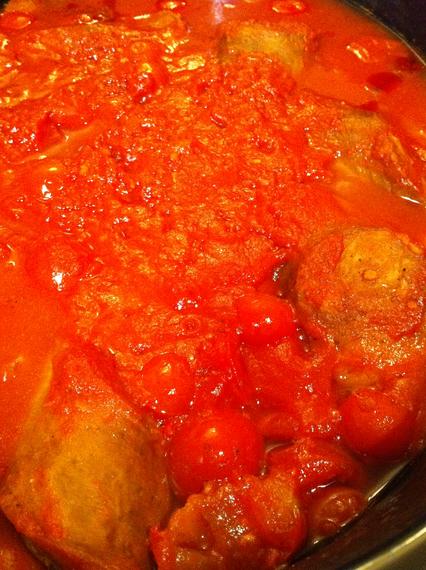 The first night tomatoes and sausage pieces find themselves spooned over a crusty roll.  Garnish with pickled Italian cherry peppers and grated Parmigiano Reggiano… or not.  On the second night, the remaining sauce finds itself tossed with penne and topped with more Parmigiano Reggiano.
Tomatoes & Sausage
7 cups cherry tomatoes
1 large onion, finely diced
2-3 cloves garlic, finely diced
1 stalk celery, finely diced
1 red pepper, finely diced
1 tsp basil, powdered
1/2 tsp oregano, powdered
1 tsp black pepper, freshly ground
1 tsp crushed red pepper
splash red wine vinegar
salt, to taste
hot Italian sausages sliced into 5-6 inch pieces
Pulse 4 cups of cherry tomatoes in a food processor.  Pulse on and off to a coarse puree.  Set aside.  Slice remaining cherry tomatoes in half.  Add to pureed tomatoes.  Set aside.
Saute diced onion and sausage pieces until the edges begin to color.  Add garlic, celery and red pepper.  Saute an additional minute or two.  Then, add pureed tomato mixture and spices. Bring to a gentle boil.  Then, simmer for 15-20 minutes.  (Or, until sausages are thoroughly cooked)  Spoon sausage and chunky tomato bits onto crusty rolls sliced in half.
Grate Parmigiano Reggiano over the top, if desired.