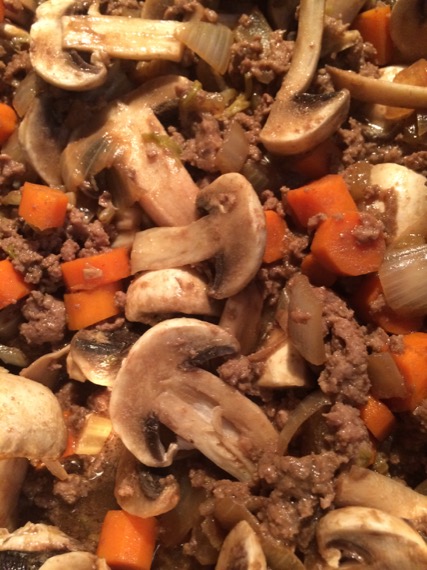 Steak & Ale Pie
Since this was a test, I decided to go with ground beef instead of steak.  Also, I'm using button mushrooms in this dish because I happened to have them on hand.
Top this with mashed potatoes and bread crumbs or pastry.  Both are equally hearty and delicious.  I'm fond of the mashed potato version with a little dot of butter in the center of each individual ramekin or baking dish.
Steak & Ale Pie
makes 1 big pot
2 lbs ground beef, lean
2 large onions, diced
3 Tablespoons butter
2 Tablespoons flour
3 cloves garlic
1 large box of brown mushrooms
1 bottle dark ale
2 cups beef stock
4-5 carrots, diced
1 stalk celery, finely diced
1/2 teaspoon black pepper, freshly ground
sea salt, to taste
bread crumbs, or buttered bread crumbs
In a dutch oven, brown ground beef.  Drain off excess fat.  Set beef aside.  Add onions to the pan.  Sauté with butter.  Add flour.  Cook briefly.  Then, add garlic, mushrooms, ale, stock, carrots and celery.  Bring to a simmer.  Add beef, black pepper and add salt to your taste.  Simmer gently until sauce thickens.
Pour into large baking dish (or individual baking dishes) and top with mashed potatoes.  Sprinkle with bread crumbs or buttered bread crumbs.  Add a little dot of butter on top, if desired.
Bake at 375 degrees F for 45-55 minutes or until golden and bubbly on top.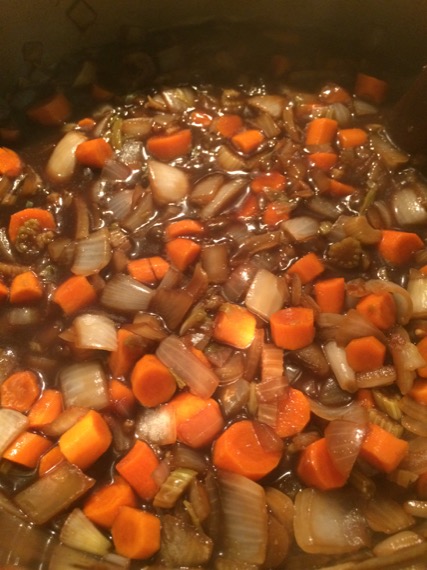 For pastry:
1 cup AP flour
1/4 cup suet or lard
1/4 cup butter
1/4 teaspoon fine sea salt
water, as needed to form dough into a ball
Combine all in a food processor.  Pulse in bursts until a crumbly ball forms.  Roll flat.  Let rest.