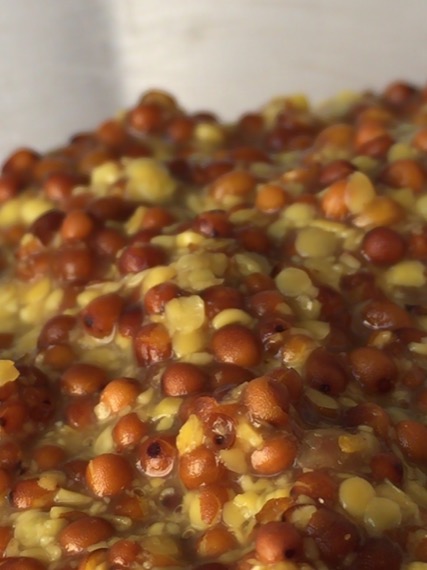 This mustard may be easily adapted to any taste.  Use wine instead of vinegar, if you like.  Or, add a mix of wine with a splash of vinegar.  Or, if using wine, after the initial 8 hour soak add a splash of verjus.  Then, add any additional herbs, spices or seasonings that you enjoy.  Garlic (or shallots with wine) would make a lovely addition.
Grainy Mustard
makes about 1 cup
1/2 cup mustard seeds
1/2 cup vinegar
1 teaspoon fine sea salt
2-3 Tablespoons brown sugar, to your taste
Combine mustard seeds and vinegar in a glass measuring cup.  Stir.  Then, cover and let mustard seeds soak and soften in vinegar over night (about 8 hours).
The next morning add 2 Tablespoons brown sugar.  Taste.  If desired, add another tablespoon of sugar or honey.  Taste.  If desired, add honey, herbs and/or spices to your taste.  For a German style grainy mustard, add an additional tablespoon of honey and a pinch of black pepper, allspice, and clove.  In a glass measure or mustard crock, cover and chill for at least 24 hours before the first use.  This allows the mustard time to mellow.
After 24 hours, if desired, pulse once or twice in food processor.  Or, leave mustard seeds whole.  This creates a unique texture of soft mustard seeds that will pop gently in your mouth.