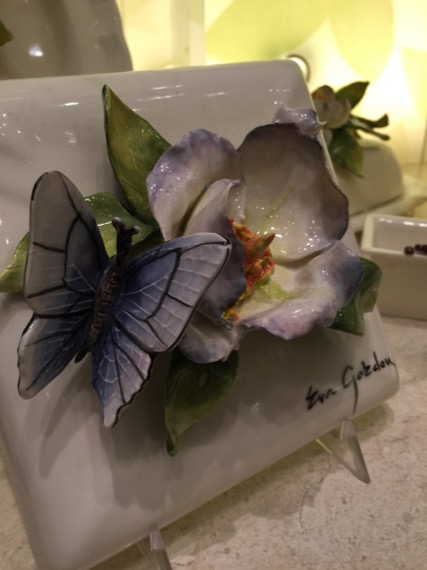 Eva Gordon Purple Flower & Butterfly Art Plate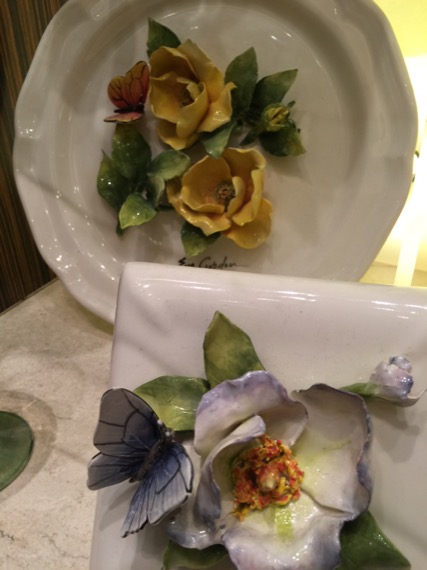 When you were little did you dream of daily tea parties?  Every day you'd set the table with linen and lace and your favorite china.  Right?  Well, if you had those day dreams, you probably had china cabinets filled with delicate china and decorative plates like these in those dreams.  My grandmother certainly had a china cabinet or two.  I could name a few of my older aunts who did, too.  Me?  Not so much.  But, I will confess to the childhood dreams.  And, I have a couple sets of matching teapots, cups and saucers.  Those teapots and cups tend to make an appearance around the holidays.  Then, they return to their quiet place in a high kitchen cabinet.
For my every day cup of coffee or tea, I prefer my big Valentine mug.  Today, my big mug was filled with café au lait.  It's my current favorite for the days when I'm in a hurry.  Generous quantities of milk make it a hearty snack to tide you over until you have time for a real meal.  It's so easy to make.  Just remember to heat your milk while your coffee sits to brew.
Café Au Lait
makes 1
1 part French press coffee
1 part warm milk
1 teaspoon vanilla sugar
sprinkle of cinnamon
Pour hot coffee and warm milk into a large mug or bowl.  Add a touch of sugar, if you like.  Stir.  Then, sprinkle with the tiniest hint of cinnamon.
Happy New Year!