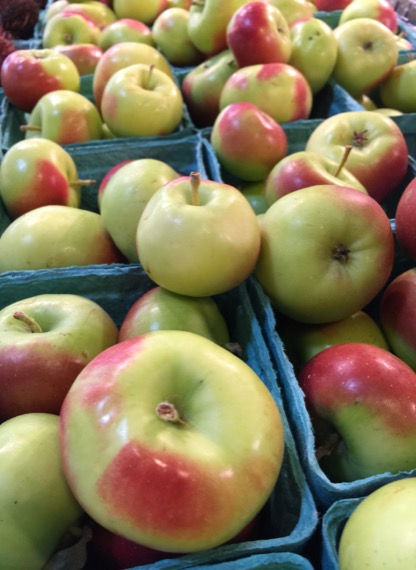 Lady Apples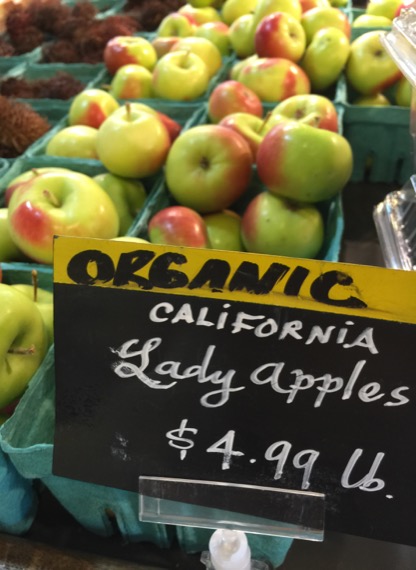 These little apples work beautifully to create a sweet ending to any meal.  Their small size allows for a sweet treat without the unfortunate feeling of excess or over-indulgence.  Any small apple can be used.  But, these and small empire apples are two of our favorites.  If you accidentally purchase some spongy apples or if you're looking for a way to use a couple random strays, this hides their flaws and highlights their sweetness.
Baked Apples
makes 4
4 small apples, Empire or Lady Apples
fresh cranberries
sultanas or other raisins
splash of brandy or rum
1/4 cup sugar
1 teaspoon cinnamon
1/4 teaspoon ground cloves
Preheat oven to 375 degrees F.
Wash apples carefully.  Remove the core without breaking through the bottom.   Place in a small baking dish.  Stuff each apple with a couple cranberries and raisins.  Splash each apple with brandy or rum.  Then, combine sugar, cinnamon and ground cloves in a small bowl.  Sprinkle mixture over your apples.  Then, add just enough water to cover the bottom of your baking dish.  Bake for 35-45 minutes.  Apples should be tender, not mushy.  If you want softer apples, cook them longer.
Serve warm.  Top with whipped cream, ice cream, or both.