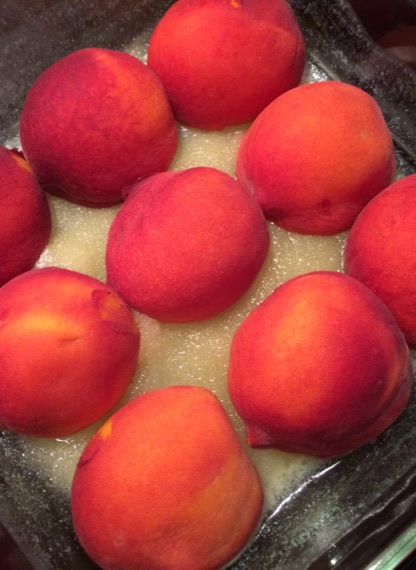 Peach Upside Down Cake
We've spent the last month eating one crate of barely ripe peaches.  While still under ripe, we carefully washed and dried each peach.  We placed one layer of peaches back in the crate.  And, we covered them lightly with a flour sack towel.  The remaining peaches were layered carefully on a wide platter and covered with another linen towel.  Then we waited patiently.  Two to three days later, we had over two dozen perfectly ripe peaches.  We covered the crate with a  second towel and placed the crate in the fridge.
The peaches on the platter were eaten over the course of that week. At the end of that week, the remainder of those super-ripe peaches made a small batch of jam.  (That'll be posted on Friday.)
The following week we snacked on the fridge peaches.  Each day we'd take out one or two peaches and set them on the counter for later in the day.  The leftovers of that week went into this cake.  As you can see above and below,  these peaches are so perfectly ripe that the lightest touch can tear the skin from the flesh.
Peach Upside Down Cake
makes one 8×8 inch dish
(see note)
1/2 cup sugar
1/2 teaspoon cinnamon
4 Tablespoons butter, melted
4-5 peaches, halved
2 cups AP flour
1 tsp baking powder
1/2 teaspoon cinnamon
1/2 teaspoon fine sea salt
1 cup buttermilk (or whole milk)
1/2 cup canola oil
1 cup sugar
1 teaspoon vanilla
Preheat oven to 350 degrees F.
Pour 4 Tablespoons of melted butter into baking dish.  Combine cinnamon and sugar in a small bowl.  Sprinkle over butter.  Place haled peaches on top.  Space evenly.  Set aside.
Sift flour, baking powder, cinnamon and salt.  Set aside.
Combine oil, sugar, and vanilla in a large mixing bowl.  Add buttermilk.  Stir.  Gently stir in flour mixture until combined.  Pour over peaches.  Bake in preheated oven at 350 degrees F for approximately 50-55 minutes or until cake is set.
Serve immediately.
If desired, top with ice cream and a touch of whipped cream.
Note:
The 8×8 inch baking dish was almost too small.  Luckily, I'd placed the baking dish on a parchment covered cookie sheet.  Peach juice overload around the edges and made the dish sticky.  Use a slightly bigger dish next time.