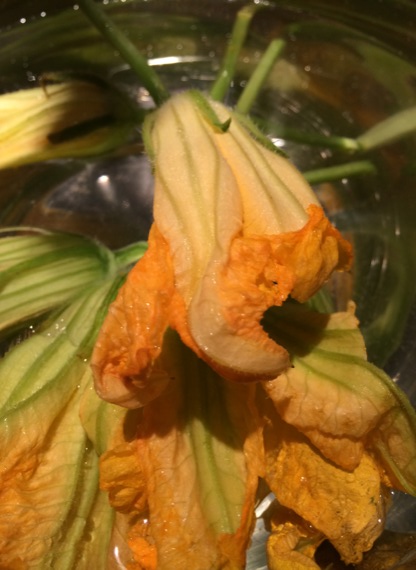 Male Squash Blossoms
These beautiful blossoms were jam-packed into a plastic wrapped container and slightly wilted.  But, they weren't bruised.  (If they're bruised, they won't perk up as prettily.)  And, for about $2 they were easily worth the minimal investment of time and effort.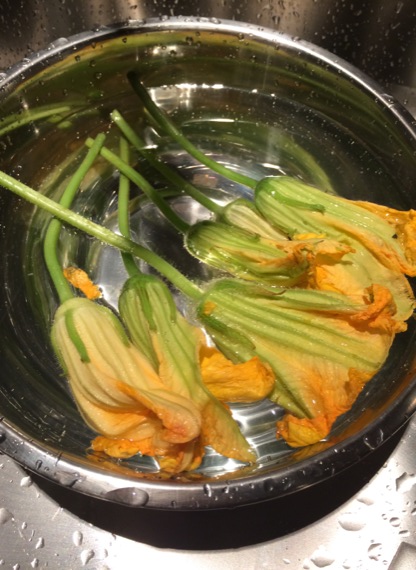 The blossoms on top had the most damage.  But, after cutting a tiny piece off of each stem, I carefully washed them in cool water.  Then, ran fresh water into another bowl.  Then, placed the blossoms in the fresh water and let them sit peacefully for about 30 minutes.  They perked up quite nicely.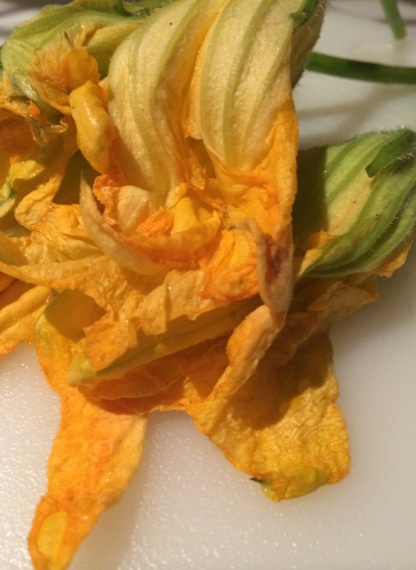 They're not overly temperamental or fragile.  They're just about as resilient (maybe even more so) than most lettuces.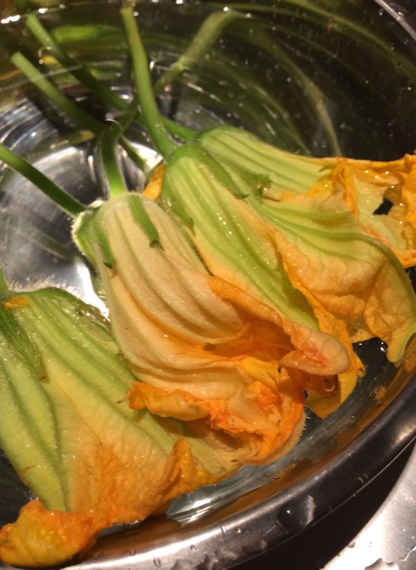 The stems are the absolute definition of bright and fresh flavor with a crisp bite.  I think the stems are even tastier than the blossom itself.
Squash Blossom Omelette
makes 1
6 squash blossoms, washed well
3 eggs
1 Tablespoon milk or water
1 Tablespoon of butter, or as desired
1 Tablespoon dill, minced
1 Tablespoon chives, cut into tiny rings
fine sea salt, to taste
freshly ground black pepper, to taste
Cut the stems into small pieces.  Then, cut blossoms in half.  Sauté stem pieces in butter.  Add dill, chives, black pepper and salt to taste.  Remove from the pan.  Gently sauté blossom pieces.  Remove from the pan.  Prepare omelet.  Before folding the omelette, evenly spread stem pieces and squash blossom pieces down the center.  Then, fold and plate omelette.
Top with chopped dill or chives, if desired.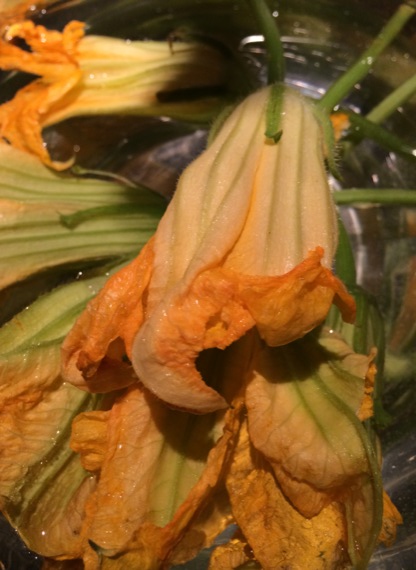 I was amazed by the quantity of blossoms in the package.  There were close to two dozen blossoms.  I gently shook the leftover blossoms dry and layered them carefully in a glass bowl covered with plastic wrap.  They remained fresh, crisp and perky for over a week.