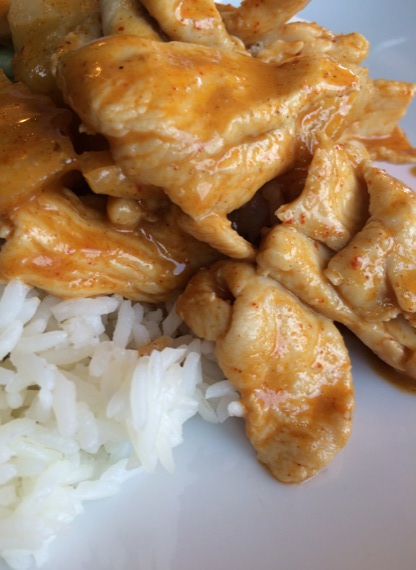 Candlenut = Kukui Nut
Long ago in Hawaii, the oil of the candle nut was used to make light.  Also, the nuts were strung together in a way that each burning nut would measure the passing time.  It would take roughly 15 minutes to burn from one nut to the next.  In Hawaii, kukui nuts are used in a variety of ceremonies including wedding ceremonies.  The nuts represent light.  And, the two lights of two spirits become one.  The kukui is also used as a symbol of enlightenment, protection and peace.  With all of this rich symbolism, it's obvious why it's such a popular jewelry bead.  In its shell, the nut is buffed and polished and made into leis, necklaces, bracelets, and anklets.  The raw shelled candlenut (or kukui nut) is mildly toxic.  It can be used as a laxative or purgative.  So, if you're not looking for a laxative, don't eat it raw.
If it's toxic, why does it appear in the foods of Hawaii, Malaysia, Java, Tonga, and The Philippines?  Well, this oily nut also adds a hint of bitterness, a silky richness, and that little something special to stewed dishes.  It also acts as a thickening agent.
Kari Ayam
serves 3-4
5-6 red chillies, cut in half and seeded
1 small sweet red pepper, quartered and seeded
4 red shallots, roughly chopped
4-6 garlic cloves
4-5 candlenuts (or kukui nut)
(Substitute brazil nuts or macadamia nuts, if needed)
1 inch fresh turmeric, sliced
1 inch ginger, sliced
2 TBSP macadamia nut oil (or coconut oil)
1 lemongrass stalk, chopped in half lengthwise
1 inch galangal, roughly chopped
4 cups coconut milk
2 tsp ground cumin
2 tsp ground coriander
1 tsp fennel seeds, toasted and ground
1 inch cinnamon stick
1 tsp grated nutmeg
4-5 cloves
1-2 star anise
1 tsp Belacan shrimp paste, roasted and crushed
1 tsp salt
⅓ cup brown sugar or palm sugar
3 chicken breast, sliced into thin pieces
3 potatoes, peeled and quartered
fried shallots, to garnish, if desired
Place red chili peppers, sweet red pepper, shallots, garlic, candlenuts, turmeric, ginger, and oil.  Process to a smooth paste.  Place paste in heated dutch oven with 1-2 Tablespoons macadamia oil.  Fry until aromatic.  Add lemongrass, galangal, coconut milk, cumin, coriander, fennel seeds, cinnamon, nutmeg, cloves, star anise, shrimp paste, salt, sugar, and potatoes.  Bring to a gentle simmer and simmer for 15-20 minutes.  Add sliced chicken breast pieces.  Simmer for another 10-12 minutes or until chicken is fully cooked, yet tender.
Garnish with fried shallots, if desired.