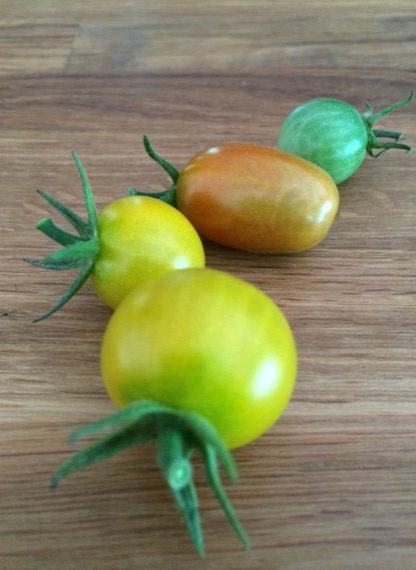 The First Tomatoes
Two Sun gold and one Tami G, these were green yesterday.  Yesterday's tomato pictures were taken in the late afternoon.  After taking those shots, I thought it would be at least another week before we had a ripe tomato.  And, today, we have three.  They're barely ripe.  But, for our eager fingers they were ripe enough for picking.  We savored these first bites with a sprinkle of freshly ground fennel seed and a very light coarse grinding of black pepper.  The fennel brought out the sweetness to perfection.
Fresh Tomato Bites
cherry tomatoes, halved
fennel seed, freshly ground
black pepper, freshly ground, coarsely
fine sea salt
Cut cherry tomatoes in half.  Sprinkle lightly with freshly ground fennel, black pepper and sea salt.
Savor each bite.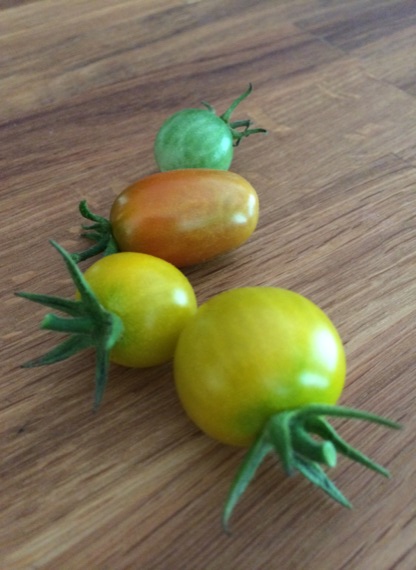 A handful of vine ripe tomatoes make a perfect snack.  I'm already planning the next few bites.  The next tomatoes to ripen will be savored with a gentle sprinkling of  smoked sea salt.  We have crystals of hickory smoked sea salt and smoked Maldon sea salt.  The triangular flakes of Maldon sea salt have been smoked over English oak.  It's lovely and mild.  The Juliet and Tami G  tomatoes will be perfect to taste with just a tiny touch of each type.  After that?  I'll be mixing a touch of wasabi powder into fine sea salt.