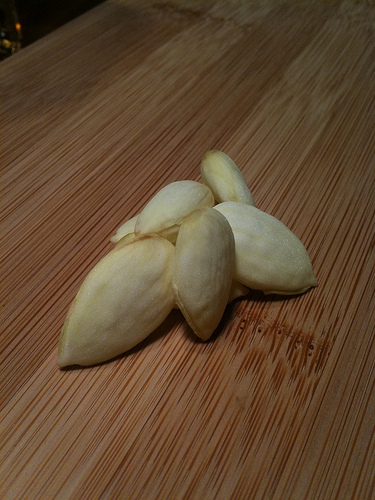 Fresh Almonds
Technically, the fruit of the almond tree is a drupe… not a nut.  The entire green almond is edible.  But, the outer green shell is quite tough to chew.  And, it has a sour taste that can become unpleasant quickly.  (I'd say the taste is similar to that of a sour green bean.) Though, it is used in salads and chutneys in Indian cooking.
The inner seed is unique.  A soft white casing encloses a clear fresh tasting jelly.  The taste and texture is reminiscent of a cucumber seed combined with a very light, fresh bean flavor.  First, we enjoyed dipping the seeds in salt and chili powder.  Then, we tried dipping the seeds in superfine sugar.  When we dipped the seeds in sugar, we noticed a flavor reminiscent of sweet avocado.  (Have you ever dipped a wedge of avocado in sugar?  That was our first impression.)  We enjoyed all of the flavor combinations.  The fresh green flavor is quite delicate.  It's a lovely way to start a meal.
The best recipe that I've found for green almonds is in Grant Achatz's Alinea cookbook.  Simply listed as "Green Almonds, Sweet, Hot, Sour, Salt", the green almond seed is used as a focal point in the center of vivid green cucumber gelee squares.  The square of gelee is garnished with sweet (crushed sugar cubes), hot (cayenne chili powder), sour (citric acid), and salt (Bali or Maldon sea salt) in each of the four corners.  I regret not having the cookbook on hand.  Sadly, by the time I order my copy, my gorgeous batch of green almonds will be long gone… next time.
For now, I'll have to settle with my improvisation.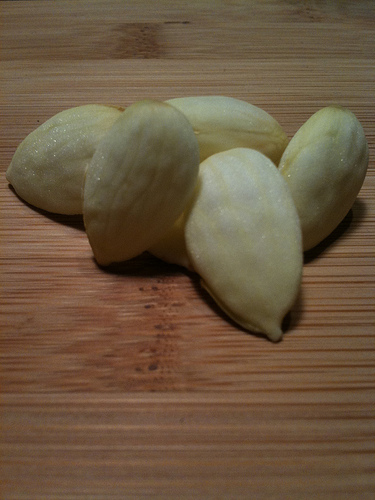 Green Almonds
green almonds, removed from their pods
lemon wedges
lime wedges
chili powder
black salt, or sea salt
smoked salt
sugar, superfine
Place small mounds of sugar, chili powder, and salts on a small flat plate.
Squeeze lemon and lime juice into separate condiment bowl.  Dip each almond seed in lemon or lime juice.  Then, dip each seed in salt, chili powder or sugar.  Or, dip each seed in a combination of sugar and chili powder or salt and chili powder.

Green Almonds from Global Food & Nuts
Global Food And Nuts
11235 Alpharetta Highway
Suite 111
Roswell, GA 30076
770 619 2966