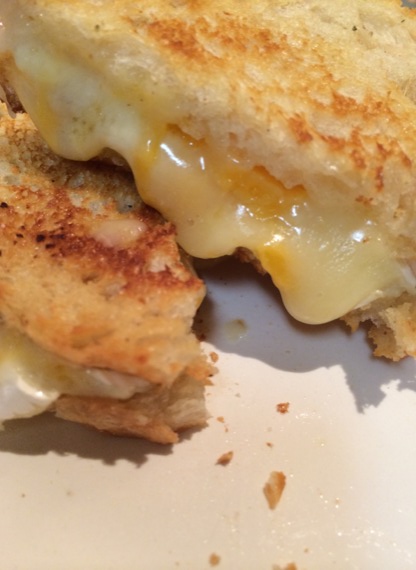 The Grilled Cheese Sandwich
So easy and so good, the simplest recipes require quality ingredients and a little bit of care.  That's all there is to it.  The combination of good bread and very good cheese make this super simple sandwich something truly special.
We do have our own little secret.  And, it's a secret that we think makes all the difference in the world.  The secret?  Use very little butter.  We don't butter the bread.  This requires too much butter for our taste.  We like butter on this sandwich.  But, we don't LOVE butter on this sandwich.  So, we like to use it sparingly.  The star of this sandwich is the cheese.  So, we butter the griddle.  This requires just a little bit of care, moderate heat and a little bit of time.  You will be rewarded with a golden brown edges on the bread and melty cheese inside.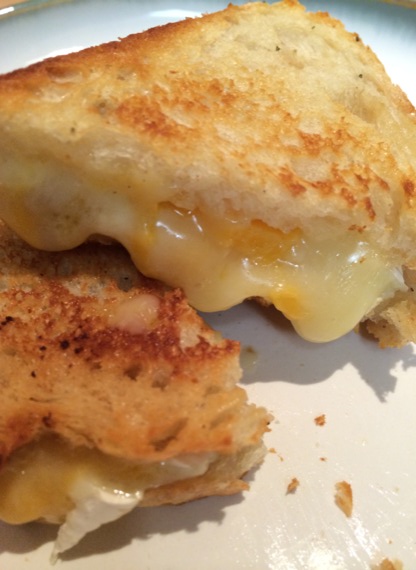 Grilled Cheese Sandwich
makes 1
about 1 teaspoons butter
2 slices of rustic rosemary bread
brie, thinly sliced
a few crumbs of cave aged cheddar
Heat griddle with a moderate heat.  Uniformly coat griddle with a thin sheen of butter.  As the butter bubbles , place bread on the griddle.  Carefully toast one side of the bread on the griddle to a light golden brown.  Flip both slices of bread.  Top one slice of bread with cheese.  When the second side appears toasted, place the hot side of the toast onto the cheese.  Plate.  Slice.  Devour.
Grainy mustard makes a lovely addition to this sandwich, if you'd like to add a touch of spice.
Ready for dessert?
Grill an extra slice of rosemary bread.  Top with Georgia Belle Peach Preserves.