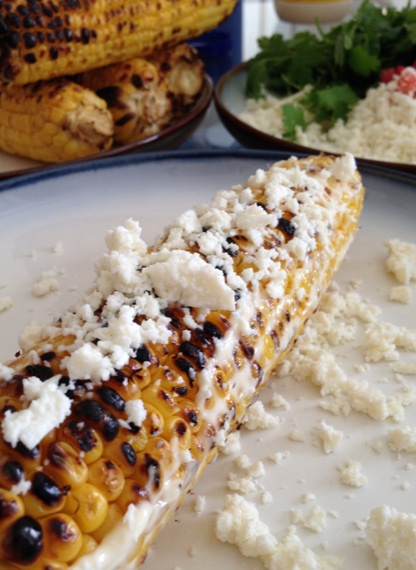 The summer is coming to a close.
So, now's the time to grab all of the fresh vegetables that you can.  We had tons of baby greens, gorgeous tomatoes, radishes, cucumbers, spring onions, cilantro and lime.  So, we paired our grilled corn with a big plate of salad greens.  With bowls on the side, we each built our own salad to our tastes.
Even including the time to heat up the grill, this meal took less than 30 minutes from start to finish.  As the grill heats, prep your salad greens and crumble your cheese.  That's really all there is to this meal.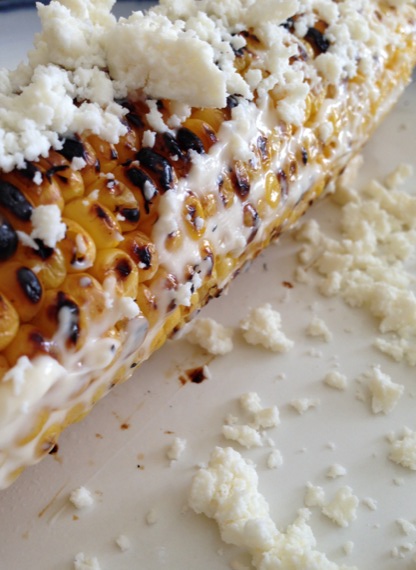 Grilled Corn With Queso Fresco
6 stalks of corn, shucked and washed
1/4 lb queso fresco, freshly crumbled
mayo
cayenne or chili powder of your choice
lime wedges, if desired
Preheat the grill for at least 5-7 minutes.  Place corn on the grill and cover.  Grill for 5-6 minutes.  Turn.  Grill until corn is tender and the marks are to your liking.  Place one piece of grilled corn on each plate.  Brush each piece with mayo.  Then, sprinkle on the queso fresco and chili powder.  Serve lime wedges on the side, if desired.  (You can add a sprinkle of finely chopped cilantro, too.)
Drizzle each salad with olive oil and lime juice.  Add a sprinkle of chili powder, fine sea salt and freshly ground  black pepper.