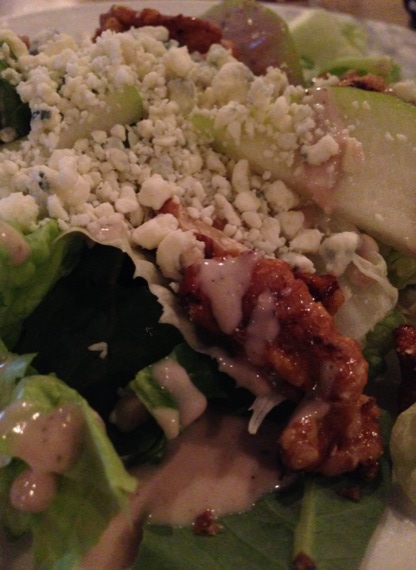 Blue cheese and pear turn an ordinary salad into something special.  Personally, I think walnut and walnut oil are the best choice.  But, pistachios and olive oil would be lovely, too.  Some other choices might be roasted almond, hazelnut or macadamia nut.  Hemp seeds would be fun to try as well.
Walnut & Pear Salad
makes 1 small bowl
A mix of baby letuce, well-washed and trimmed
1 pear, thinly sliced
roasted walnuts or roasted maple glazed walnuts
blue cheese crumbles
black pepper, freshly ground
Arrange baby lettuce in a small bowl.  Top with pear slices and roasted walnuts.  Grind whole black peppercorns over it all.
Walnut Vinaigrette
makes about 1 heaping cup
1/3 cup roasted walnut oil
1/4 cup sherry vinegar
1/4 cup walnuts, raw
1 Tablespoon maple syrup
1 small shallot, trimmed and cut in half
1 Tablespoon Dijon mustard
1/4 teaspoon fine sea salt
In a powerful blender, combine all ingredients.  Pulse until creamy.  Pour into vinaigrette flask.  Serve vinaigrette on the side and pour just before eating.