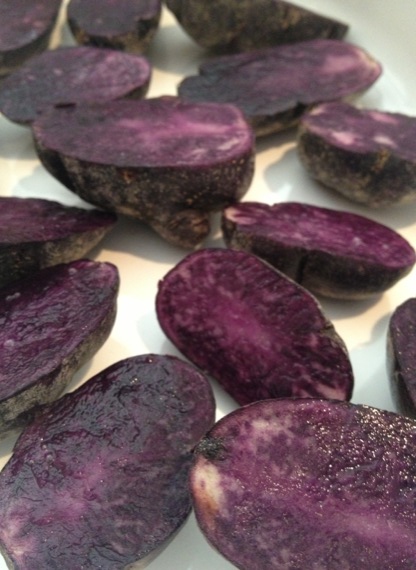 Purple Potatoes
I love them.  But, I don't love the way they fade and bleed into soups and stews.  So, I tried something different.  I nuked them.  Three minutes for the first try.  And, then they went back into the nuker for another 2-3 minutes.  Cook til fork tender.  And, guess what?  When they were done, they still possesed the gorgeous purple color that I love.
Usually, my microwave oven is reserved for the sole task of making popcorn.  Now, it has two tasks.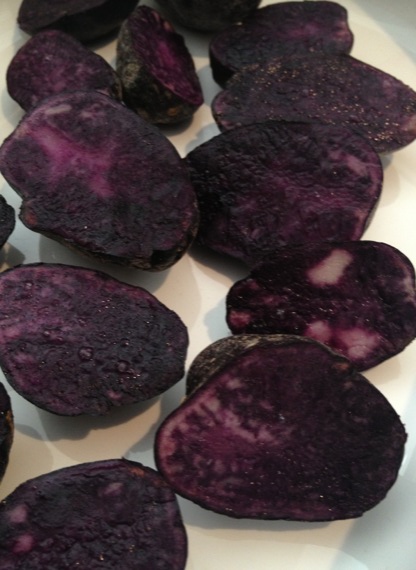 Purple Potato Salad
makes 1 large salad
6-8 small purple potatoes, cooked to be fork tender
1 hard boiled egg, peeled and diced
1 stalk celery, finely chopped
1 green onion, finely chopped
dollop mayonaise
grind of fresh black pepper
pinch fine sea salt
pinch smoked paprika or cayenne, to garnish
dill, roughly diced, to garnish
Combine all in a medium sized bowl.  Stir to combine.  Plate.  Sprinkle with smoked paprika and dill.
Lunch time!
Do you want to make it a bit heartier?  Add a handful of freshly boiled shrimp.