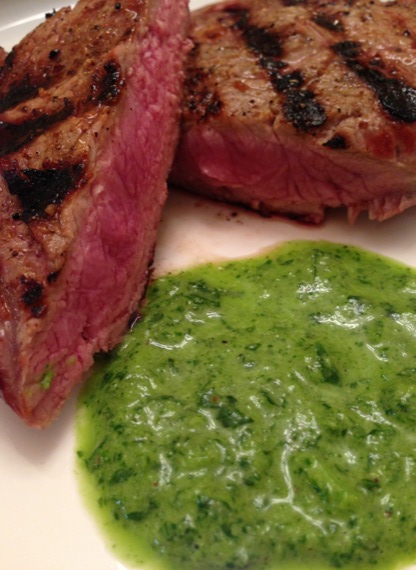 It's grilling season!
This isn't a perfect example of the sauce.  Ideally, the tender leaves would be ever so slightly chunkier.  But, that's the downside of having a powerful food processor.  Pulsing the processor as little as one second too long, that fine mince of tender leaves turns into a chunky puree.  Oh well, it was just as fresh and tasty as it should be.
Chimichurri is a sauce that was meant to be personalized.  Add more or less parsley.  Add garlic.  Substitute vinegar for the lime juice.  Use cilantro.
…or don't use cilantro.  It's entirely up to you.  It's your sauce.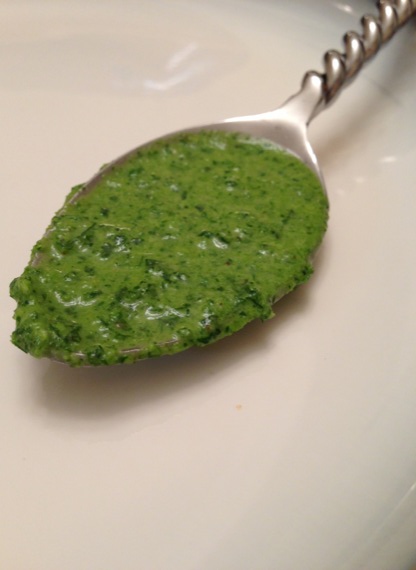 Chimichurri Sauce
makes almost 2 cups
1/2 cup Italian parsley, well washed
1 heaping cup cilantro, well washed
juice of one or two lime
splash of olive oil
1 – 2 inch long sprig of baby oregano leaves
1/2 teaspoon fine sea salt
1/4 teaspoon red pepper flakes
1/4 teaspoon freshly ground black pepper
Combine all in a food processor.  Pulse for 1 – 2 seconds.  Leaves should be visible and they should appear to be a fine mince.
(Sometimes, I like to cut off the parsley and cilantro stems and liquify them with all the ingredients.  Then, add the cilantro leaves and parsley leaves.  Pulse them very briefly into a chunky mince.)