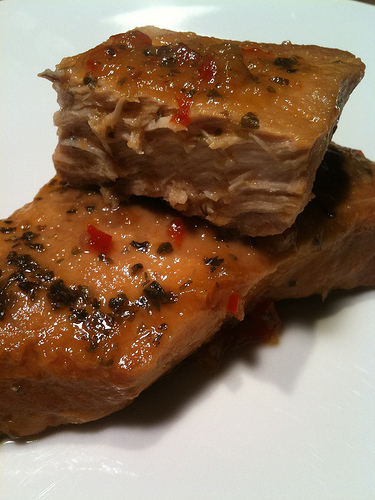 Next to Florida mangoes (Edward, Gold Nugget, Haden, & Valencia Pride), Haitian "Madam Francis" mangoes top my list of favorites.  For this recipe, just be sure to find the ripest mangoes available.
Mango Braised Pork
4-6 1″ thick slices of pork loin chops
1 large onion, finely chopped
2 cloves of garlic, finely chopped
1 small bunch cilantro, finely chopped
1/4 cup Cento diced hot cherry peppers with a small amount of spicy vinegar
1 teaspoon black pepper, freshly ground
2-3 large ripe mangos (peeled, chopped and pureed)
2 cups vegetable stock
salt, to taste
In a large dutch oven over moderate heat, sear each piece of pork loin on both sides until golden brown.  Remove and set them aside.
Add a small splash of olive oil to the pot and saute onions until golden.  Add garlic and saute for an additional minute. Then, add all of the remaining ingredients and bring to a gentle simmer.  Stir to remove golden bits from the pan.  Cover the dutch oven and place it in a 350 degree oven for 2 hours, or until tender.
Serve with oven roasted potatoes, sweet peppers, and onions tossed with olive oil, salt & pepper.
Next time: I'll try to remember to save enough cilantro to garnish my plates! Oh well…