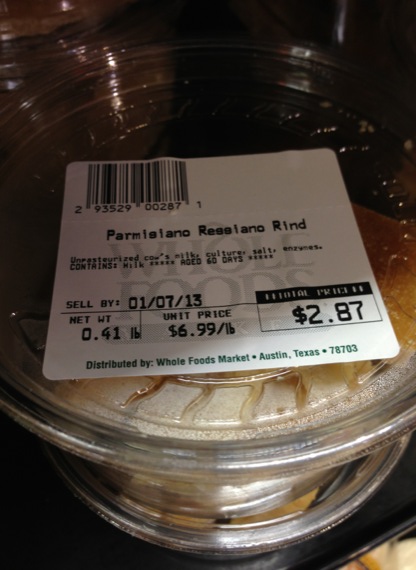 And, if you have to.. you can buy them, too!
Adding a thick chunk of Parmigiano rind makes a great way to add flavor and richness to a variety of Italian soups.  My favorites are chicken based broths with bitter greens and white beans.  But, a tomato based vegetable soup works equally well.
Here, I'm using the last of my holiday season turkey stock.  But, chicken stock and vegetable stock work beautifully, too.  Out of stock?  Just add extra veggies.
Turkey, Fennel And Herb Soup
makes 1 big pot
1 large onion, finely chopped
3 cloves garlic, minced
olive oil, as needed
3 stalks celery, washed and chopped
5 carrots, peeled and sliced
1 fennel bulb, sliced into thin pieces
1 bay leaf
1/2 teaspoon red pepper flakes
6-8 cups turkey stock (Or chicken stock, vegetable stock, or water)
Parmigiano Reggiano rind, at least one 2 x 1/2 inch thick wedge
2 Tablespoons sun-dried tomato, sliced into slivers
salt and freshly ground black pepper, to taste
escarole,arugula, or other bitter greens, if desired
1 handful basil, save some for garnishing
several strands of chive, finely diced
In a large dutch oven, saute onion in olive oil for 1-2 minutes.  Add garlic, celery, carrots, fennel, bay leaf, and red pepper flakes.  Stir briefly.  Add chicken stock, Parmigiano Reggiano rind, and sun-dried tomato.  Bring to a simmer.  Taste.  Add salt and black pepper, to taste.  Continue to simmer for approximately 10-15 minutes.  Or, until vegetables are tender.  Two minutes before serving add bitter greens and a handful of basil, if you desire.  Turn off the heat and let sit for 1-2 minutes.  Serve in large bowls with chunks of toasted rustic bread.  Garnish with basil and chives, if desired.
Mangia, mangia!