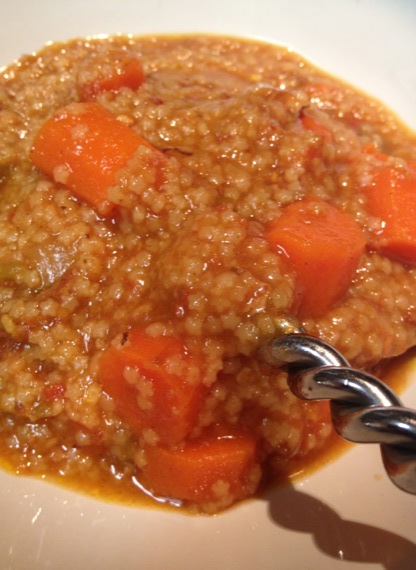 Pastina…
It can refer to any tiny pasta.  Or, it might refer to a dish made by Italian grandmothers everywhere.  It's a simple blend of chicken soup, broth, stock, and veggies.  My grandmother added the pastina directly to the chicken soup.  So, that's how I make it.  This will thicken the soup and create a risotto-like consistency.  Pastina… it's the mother of all comfort foods.
Here, I've added chunky pieces of carrots to an already rich turkey soup.
Pastina
makes 1 large pot
1 large onion, finely diced
3 Tablespoons butter
1-2 cloves garlic, finely minced
3 carrots, roughly diced
2 stalks celery, finely diced
1-2 hot cherry peppers, finely diced
turkey or chicken soup, or stock, or broth, as needed (at least 8 cups)
1/4 teaspoon black pepper, freshly ground
salt, to taste
1 lb pastina (stars)
Parmigiano Reggiano, if desired
In a large dutch oven, sauté onion until edges begin to cook and turn golden.  Add garlic, carrots, celery and peppers.  Stir briefly.  Add at least 8 cups of turkey soup (or chicken soup, or chicken stock, etc).  Simmer gently for 5-10 minutes, or until carrot pieces are tender.  Add pastina and stir.  Add additional soup, as needed.  If you want a thinner soup, add chicken stock to create the consistency you desire.  But, we like it rich and creamy in our house.  Simmer gently until the stars are tender.  Add pepper and salt, to taste.  (Sometimes, we've been known to add a splash or two of cream to make it even richer. …sssSSSsssshh… Don't tell anyone.)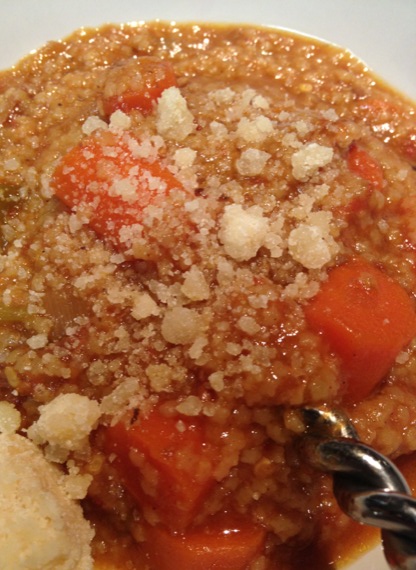 Top with grated Parmigiano Reggiano.  Here, I've made the dish slightly richer by tossing coarse crumbs on top.