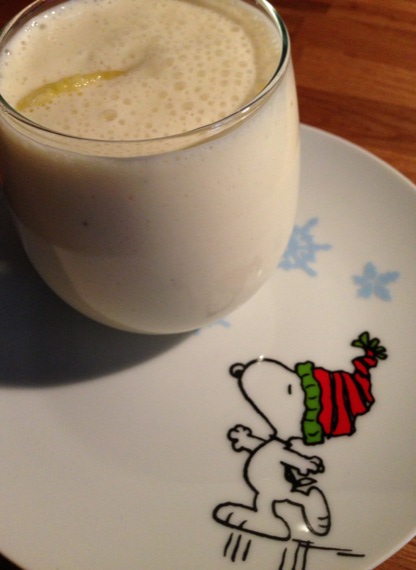 Probably because of all of the holiday excess, I get into a frugal mood out of the blue.  After coring a particularly delicious pineapple, I wondered.  What could I do with the fiber-y core.  First thought, it's smoothie time.  The fiber-y bits in the resulting smoothie were barely noticeable.
Pineapple Banana Smoothie
makes 1
1 big wedge of pineapple, approximately 1/2 heaping cup
(or, if you have an especially ripe and delicious pineapple core)
1 large banana
1 cup ice
splash of orange juice
juice of 1/2 a lime
pineapple to garnish, if desired
Place all ingredients into a powerful blender.  Liquify.  Pour into your glass of choice.  Garnish, if you desire to do so.
Cheers! …Breakfast style!
P.S.  If you choose to garnish with a ring of pineapple, be careful to hook the pineapple over the rim of your glass better than I did.  I had to fish out the wet, sticky wedge at the end of my smoothie meal.  Does that constitute playing with your food?