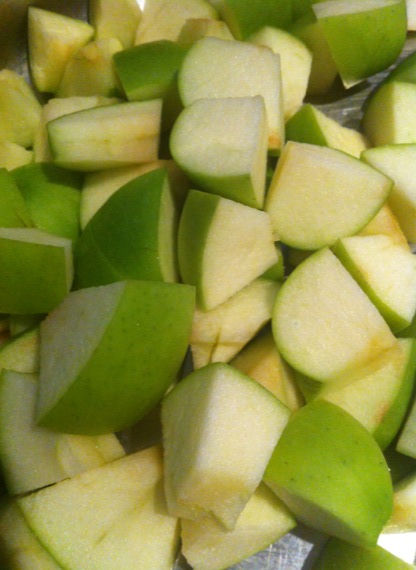 For the best flavor and texture, use more than one type of apple.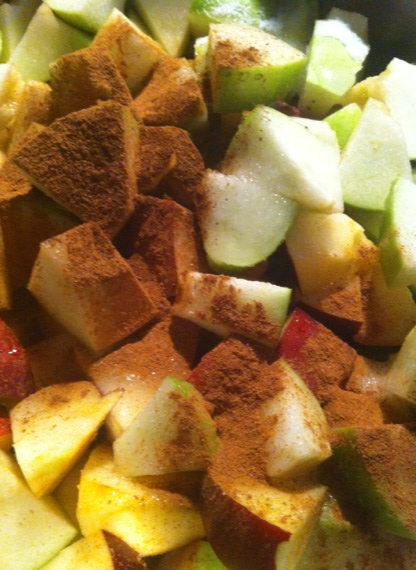 Baked Apple Butter
6-7 apples, well-washed and roughly cubed
1 cup sugar
1 teaspoon cinnamon
1/2 teaspoon allspice
1/2 teaspoon ground cloves
2 Tablespoons apple cider vinegar
3 Tablespoons molasses
In a stainless steel roasting pan (or glass baking dish), add enough water to cover the bottom of the pan.  (at least 1 cup of water)  Add apples, spices, cider vinegar, and molasses.  Spread out apples to evenly cover the  pan.  Bake at 300 degrees F for 1 hour.  Remove the pan from the oven.  Gently toss ingredients.  Place roasting pan back in the oven and bake for another hour.  Remove apples from the oven.  Taste.  Add brown sugar, to taste (1/4-1/2 cup).  Mash with potato masher, if desired.  If not perfectly tender, return to the oven for another 30-60 minutes.  Turn off the oven and let apples cool in the warm oven for at least 30 minutes.  Mash with potato masher or grind smooth in a food processor.  Pour apple butter into jars and/or large bowls for serving.  Refrigerate all leftovers.
(Or, if you choose, don't mash or grind the apples at all.  Keep it rustic and chunky.)