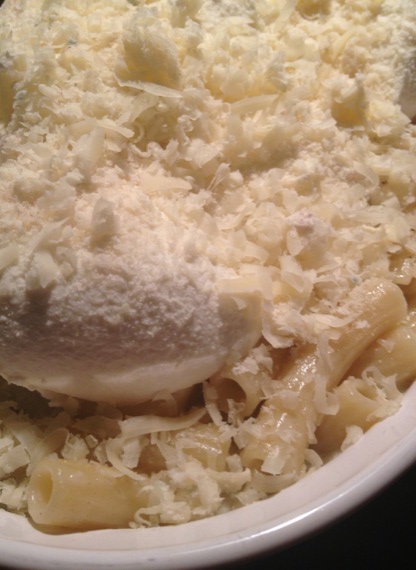 Super crazy rich… but, so good.
And, to make it even richer, I like to spoon mounds of ricotta down the center.  Topped with grated cheese, those mounds of baked ricotta are a meal … or a delicious topping on a piece of grilled bread.
Baked Rigatoni with Gorgonzola Sauce
makes 1 large casserole dish
1 lb rigatoni, cooked al dente
1/2 cup basil pesto
1 pint half and half (or cream)
4-5 oz gorgonzola, broken into chunks
1/4 teaspoon freshly ground black pepper
8 oz whole milk ricotta
1/4 cup mozzarella, grated
1/4 cup Parmigiano-Reggiano
Parmigiano-Reggiano, as needed to sprinkle on top
Save 1 cup pasta water before straining rigatoni.  Set pasta water aside.
Place strained pasta in a heavy bottomed dutch oven.  Over low heat, add cream, gorgonzola, black pepper, and a splash of pasta water.  Stir gently to combine.  Allow sauce to thicken over low heat while stirring gently (about 2-3 minutes).  Then, pour half of the sauce coated pasta into the bottom of a buttered casserole dish.  Spoon ricotta over pasta.  Then, sprinkle with mozzarella and Parmigiano-Reggiano.  Cover with remaining pasta.  (Spoon additional ricotta down the center, if desired.)  And, sprinkle with Parmigiano-Reggiano.  Bake at 375 degrees F for 45-55 minutes.  Top should be light golden and bubbly with molten hot cheese.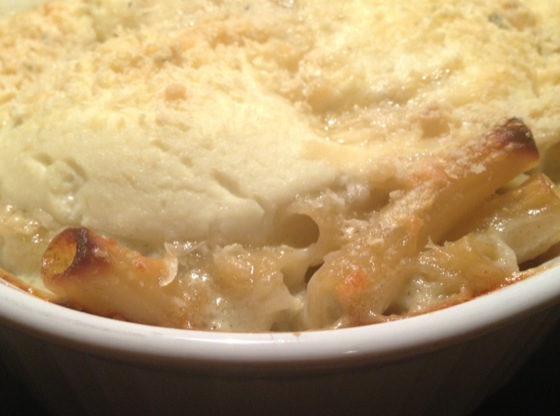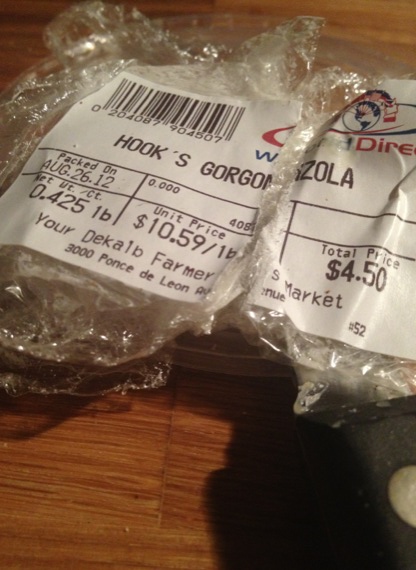 Hook's Gorgonzola
(Really Good!)